Discourse – Bringing civilized discussion to the Internet
Posting
Creating and replying to topics is pretty straightforward. Clicking on +Create Topic starts a conversation; then, users can click on Reply buttons for the topic in general or within each post hanging off the topic.
To quote a chunk of text, just select it and hit Reply. The text appears highlighted in grey with a "reveal" icon and an arrow pointing up next to it (Figure 9). Clicking the reveal arrow shows the whole text to give you some context. Clicking the upward-pointing arrow takes you to the post from which the text originated.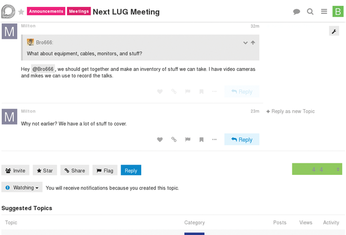 To address a user, type an @; a list of users pops up allowing you to choose who you want to talk to or about. Users are notified in the Discourse in boxes and by email when somebody answers their posts or refers to them in a conversation. A user can turn off email notifications in their personal Preferences page if they become too annoying.
If a topic starts to meander, you can cross-post it to another topic, or even to another category, by clicking Reply as new Topic in the upper right corner of the post. You can then start a new topic that automatically include links to and from the original topic.
Admins can also move posts to another existing topic. If you have admin privileges, from within the thread, you can click on the wrench icon in the upper right-hand corner and choose Select Posts (Figure 10).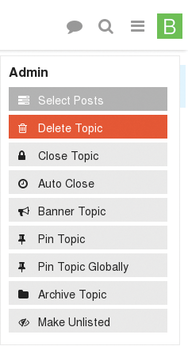 After selecting all the posts of interest, you are given the choice to delete them, move them to a new topic, or move them to an existing topic.
Conclusion
Discourse is nothing short of amazing. Despite the tricky installation process, it is well worth the effort. The functionality and the number of problems it solves in one go are astounding.
Discourse is well thought out and implements some very clever usability solutions, making it a pleasure both for end users and moderators; plus, it keeps users that prefer traditional mailing lists happy.
I have only scratched the surface of Discourse. You must explore all the options on your own to discover what Discourse can do for you. Clearly, though, if you're looking for a framework to manage the chatter within your community or company, you can't go too wrong with Discourse.
comments powered by

Disqus
Visit Our Shop
Direct Download
Read full article as PDF: