Five OpenStack solutions tested
HP Helion
When Hewlett-Packard (HP) announced the purchase of Eucalyptus in September 2014, it surprised the cloud community, because HP had actually zeroed in on OpenStack very early. Now, there is hardly an OpenStack Conference without HP's official presence, often as a sponsor. HP now also plays a significant part in the OpenStack design summits.
In addition to the Helion Public Cloud that HP operates, Helion is available as a downloadable image. The community version is free, but obviously doesn't come with any form of support. The commercial version of Helion does come with support and is aimed at large companies.
HP follows the pattern of SUSE and Red Hat: Helion is almost perfectly suited to conjuring up an OpenStack cloud out of nothing. Of course, this involves more than the mere OpenStack installation: As a hardware manufacturer, the subject of hardware is also close to HP's heart, so bare-metal deployment absolutely plays a role. TripleO [17], which not only uses OpenStack as a virtualization layer but also manages the hardware node of a cloud with OpenStack, comes directly from HP.
HP Helion uses the TripleO deployment model: Create the seed node, which is a bootable image deployed in a VM instance, then create the undercloud, which is a single-node OpenStack installation on a server that is used to maintain the overcloud, the functional cloud available to users that contains the elements for HA.
A minimal installation requires at least eight nodes; the seed host is another server (i.e., the cloud controller). According to HP, it should run on Ubuntu 14.04, so Ubuntu admins should have an easier job than those who are used to RPM-based distributions.
As you can see, Helion differs substantially from other OpenStack products, which is not necessarily good or bad; HP has invested a lot of work in TripleO, and the solution definitely has its strengths. Unlike SUSE, Red Hat, and Ubuntu, for which bare-metal deployment is always a bonus on top of the normal OpenStack, this component is an integral part the HP platform design. From a user perspective, the overcloud hardly differs from implementations by the other manufacturers. Although the Horizon OpenStack dashboard in HP Helion comes with its own theme (Figure 8), anyone who has used Horizon will get along fine.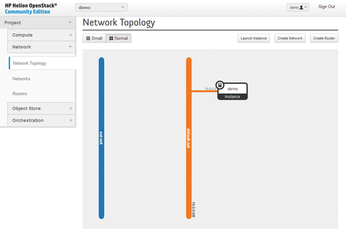 When evaluating OpenStack solutions, Helion is worth considering – especially for companies in which HP is already a hardware supplier – given that the TripleO undercloud provides useful additional features, such as automatic BIOS updates for all cloud nodes. Helion is affordable, as well: Support packages start at EUR1,500/$1,200 per year per server.
Conclusions
Ubuntu is the top dog when it comes to OpenStack. Canonical proudly points out that 55 percent of all OpenStack deployments are based on Ubuntu. Anyone who wants a quick start can be up and running within a few hours with Ubuntu OpenStack. Linux veterans SUSE and Red Hat bundle their OpenStack offers with other products or embed them in their existing portfolios. Getting started is slightly easier with Red Hat than with SUSE, but sooner or later you will arrive at a pretty similar hardware infrastructure. In the end, a fondness for Puppet or Chef could tip the balance in choosing an OpenStack solution. If you're thinking outside the box, Mirantis and HP might be worth considering.
comments powered by

Disqus
---
Support Our Work
Linux Magazine content is made possible with support from readers like you. Please consider contributing when you've found an article to be beneficial.
---