Managing files in the Seafile personal cloud
The Super Admin
The admin account for the Seafile server can manage users and groups on the server from the admin panel. Access this account by clicking on the wrench icon next to the admin icon on top.
The admin can see all users, groups, and Libraries. However even the admin cannot access the libraries, files, or discussions created by other users and groups. The admin might not be able to see the content of any library, but it does have the power to delete any library, group, member, or shared item.
Integrate Seafile with the desktop
To integrate Seafile with your local machine and take advantages of the client-side encryption, download the client for your OS. The Seafile client is available for Linux, Android, Mac OS X, iOS, and Windows. When the client is run for the for the first time, it asks for the location where the libraries, and their content, will be stored on your system (Figure 2).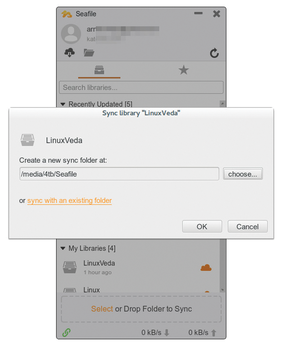 The client will then ask for the server URL and login details (email and password). Because the SSL certificate was self-generated, it will show a warning; just accept the certificate and proceed. You will then see the client window.
The client window shows all the libraries created by you or shared with you. Seafile won't sync the Libraries automatically (at least on the desktop client). You can choose which libraries you want to sync with this machine (nifty feature if you don't want to sync personal libraries on the work PC). To sync a library, right-click on the cloud icon and choose Sync this library (Figure 3). Seafile will to let you choose the location where the library and its content will reside on the local machine.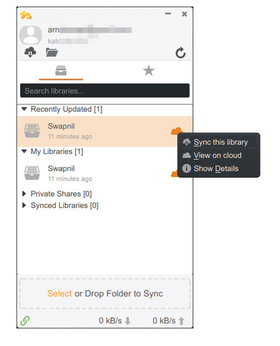 Whenever you sync a library with a local machine, Seafile saves the library inside a folder which, by default, is called Seafile. Be aware that the content inside the library is synced with the server. If you create any folder or save any file outside the library, it will not be synced. You should always work inside the Library to ensure proper syncing.
Client Side Encryption
To create a client-side encryption library, first create a folder on your local machine. Then, drag and drop that folder in the designated area on the desktop client. Seafile will open a window where you can change the path of the folder, give it a new name, and add a description (which is mandatory). Below this you will see the encrypted option – select it and provide the password (Figure 4). This folder will become your client-side encryption Library. You can sync it with other machines through the desktop clients or access it via a web browser, but every time you access the library, you will have to provide the password.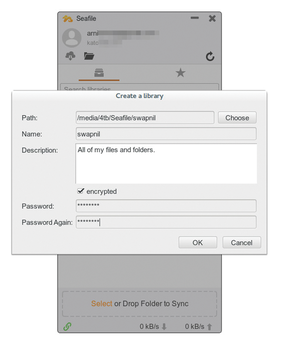 comments powered by

Disqus
Visit Our Shop
Direct Download
Read full article as PDF: