Conference coverage
SUSECon 2015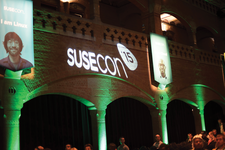 We provide some highlights from SUSECon 2015.
This year's SUSECon was held November 2-6 in Amsterdam, the capital of the Netherlands. This was the first SUSECon I've attended, and I was impressed with the magnitude of the event. The venue was Beurs van Berlage [1], which was designed as a commodity exchange by architect Hendrik Petrus Berlage and constructed between 1896 and 1903. SUSE's creative teams did a magnificent job of SUSE-fying the inside of the building.
The Event
My perception is that the conference had three focus areas: 1) ISVs and partners; 2) developers and DevOps; and 3) new talent. SUSE brought many of their big and small partners under the same roof: IBM, Intel, HP, SAP, Fujitsu, etc. IBM came with their LinuxONE mainframe, which was a center of attraction, with many people trying to get their picture taken with this monstrous machine.
The conference also featured hundreds of hands-on workshops and talks, which ranged from topics like OpenStack and Docker to the very basics of Linux. The target audience for these sessions was developers and DevOps teams. Full days were dedicated to certification exams and other training. The conference was a complete package: You had vendors who bring business, developers and admins who handle the infrastructure of these businesses, and fresh blood.
On the first day, Nils Brauckmann, President & General Manager of SUSE gave a media briefing and talked about the company's growth, engagement with partners, and future plans. I later had a one-on-one interview with Brauckmann, where he explained that the core focus of the company is on its strength – which is the server business – because so many enterprise customers run their own massive data centers.
At the same time, SUSE is also investing resources in "new" technologies, such as software-defined everything and cloud computing. A major share of this investment is going into people. "Thirty-six percent of net additional dollars we can spend, to a large degree, goes into people. No surprise there, because what we do is very people intensive. We actually opened new positions so that, at the end of fiscal year 2016, our staffing will be 26 percent larger than it has been before. We are bringing a lot of new people into the business," said Brauckmann. SUSE is on a hiring spree, which is good news for Linux experts.
He talked about the innovations SUSE has made in OpenStack. He claimed that SUSE was the first company to bring non-disruptive upgrade capabilities to OpenStack. And, although the company is very strong in OpenStack, they are also spreading their wings. During the conference, SUSE announced that they were joining the Cloud Foundry [2]. SUSE will be primarily focusing on collaborating with SAP on the BOSH OpenStack Cloud Provider Interface (CPI) project to help Cloud Foundry users more easily run the applications of their choice on public or private clouds.
I spoke with many SUSE executives during the event, and I gathered that SUSE focuses a lot on working with partners, instead of building their own stack, which can create a kind of vendor lock. Brauckmann said there might be other players in the market – both closed source as well as open source – whose strategy is to create their own stack from top to bottom. Then, they go to their customers and say "you have to use our stack." That creates vendor lock-in for their own stack.
Brauckmann said, "That is not SUSE's strategy. We do what we do best – our core competencies – and then we engage in partnerships to customize, optimize, to make a solution that is best of breed for our customers to consume. That's why we are so strong with other partners like SAP and other ISVs."
That evening, press and others went on a nice canal cruise for dinner, where we dined on a six-course meal.
Keynotes
The second day, Michael Miller, Vice President of Global Alliances & Marketing, took the stage for the keynote and showed a parody of the Maroon 5 "Sugar" video [3], which set the mood for the rest of the conference. He then invited Brauckmann on stage, and the two discussed the company's growth in the past year.
Brauckmann said SUSE had another record-breaking year in 2015, as billings grew by more than 25 percent. He stated that really large transactions, more than $1 million, grew more than 47 percent. He said that this growth further proves SUSE's ability to support large mission-critical deployments with high quality and high performance and meet enterprise customer requirements.
Ross Mauri, General Manager of z Systems, IBM Corporation, joined Miller on stage and talked about the long relationship between IBM and SUSE around the mainframe. During the keynote, they announced elastic pricing for LinuxONE servers, which allows companies of different sizes to use this powerful machine.
Chiseki Sagawa, Corporate Vice President, Head of Global Software Center at Fujitsu, then took the stage and talked about the decades-long collaboration between the two companies. Sagawa shared the fact that the name Fujitsu has little to do with Mount Fuji. The company was the outcome of a collaboration between Furukawa Electric Company and the German conglomerate Siemens. When Miller asked about his experience at the recent OpenStack event that was organized in Tokyo, Sagawa said it was weird to see so many strange people from outside of Japan wearing jeans and t-shirts in Tokyo. There was a round of applause from the audience, then things got more serious. Sagawa said that they had been in the Linux world for a very long time but had never released their internally developed software as open source. He said that although SUSE is a champion of open source, Fujitsu is a very proprietary company. That's changing, however. For the first time, Fujitsu is releasing software as open source. This product is the Open Service Catalog Manager, which is used for managing the cloud marketplace.
Sagawa added that the company is making a major shift from proprietary to open source because the speed of innovation is so fast that no single company can keep up with this pace. They have to have open source collaboration to keep up. At the same time, their customers' dependence on IT infrastructure is increasing, so they have to avoid vendor lock-in, and open source is the answer. Miller asked whether, since the Open Service Catalog Manager is an open source project, could all those people working on it now wear t-shirts and jeans? Sagawa rode the joke and said yes.
Later, Miller was joined by Jürgen Kreuziger, SVP, Cloud & Lifecycle Management at SAP AG to talk about the engagement between the two companies.
After that, SUSE announced the recipients of their first "Always Open" Customer and Partner of the Year awards: S2 Inc., Sicoob, Westinghouse, and Kongsberg Spacetec.
Conclusion
The end of the keynotes led to the beginning of workshops and talks. The next three days were full of talks, hands-on workshops, and tutorials. I used some of my time to interview key SUSE executives and openSUSE members. I also participated in the launch of openSUSE Leap 42.1.
The closing keynote was dedicated to technical demonstrations and focused on containers and Docker. SUSE engineers gave a demo of JEOS (Just Enough Operating System), a bare minimum system used to deploy containers.
Then, Miller and Alan Clark (Chairman of the Board of the OpenStack Foundation) took the stage and discussed SUSE's presence in the OpenStack space. Clark said Intel organizes an OpenStack contest called "Rule The Stack," and SUSE has won all three times. At the end of the conference, they gave out several prizes for the contests that ran throughout the event. And then the beers started coming to the stage, and the conference hall converted into a party hall.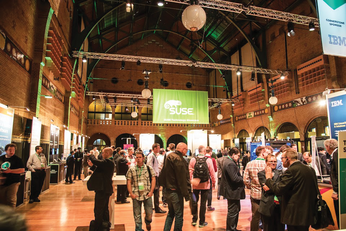 comments powered by

Disqus
---
Support Our Work
Linux Magazine content is made possible with support from readers like you. Please consider contributing when you've found an article to be beneficial.
---