Camouflaged operating system – Whonix
Tails Alternative
One alternative to Whonix is Tails [3]. With this Debian-based distro, you can access the Internet anonymously via a Live DVD or USB stick, but without the same level of security because Tails lacks the physical separation of the components that Whonix offers.
Because Tails, in contrast to Whonix, runs as a Live system, it is up and running even faster and is already protected from attacks at startup because it runs from a DVD (Figure 5). The download size is approximately 910MB, so the system is not intended to replace your current operating system; rather, it serves as a mobile surfing environment or secure environment for sensitive missions.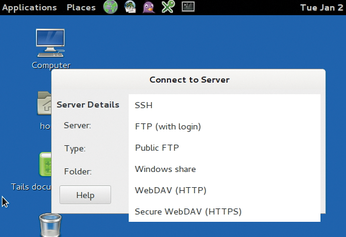 You can activate Windows Stealth Mode in Tails, during which time the environment behaves just like a Windows 8 system on the Internet. The connection to the Internet is set up via the Tor network. Like Whonix, Tails does not allow direct Internet connections. Programs are accessed via Applications in the Start menu.
In addition to the Tor browser, the email tool Claws Mail and several instant messaging programs are available on the Tails desktop. Tails can also be used as a secure online banking solution. The distribution also offers a screen keyboard.
By pressing the Tor icon and selecting Preferences, you can set up a proxy server in Tails. With the help of the Live DVD, users can install the system on a USB stick or an SD card. To do this, use the Applications | Tails | Tails Installer menu item.
Rating
Users or administrators who need a secure and anonymous Internet connection and want to use it not just once, but permanently, can take advantage of the options that Whonix offers. The security distribution can be set up very efficiently with VirtualBox. Of course, the ability to install the gateway on a physical computer is also useful on professional networks. Multiple workstations can thus be connected securely to the Internet.
For those who do not have comprehensive knowledge of Linux or want to use a secure Linux system on Windows workstations, Whonix is perfectly suited to the task. After the initial setup, through which an easy-to-use wizard guides you, you can securely and anonymously surf the Internet. Additionally, the gateway offers a connection option for other Linux distributions, whether virtualized or physical, and you do not need a license.
comments powered by

Disqus
Visit Our Shop
Direct Download
Read full article as PDF: