A guided tour of some notable and peculiar Linux distributions
Hellish Spectacle
If Devil-Linux [10] enters the religious realm in name only, other distros are really plunging in. At least, that is what you might think when the spotlight lands on Ubuntu Satanic Edition [11] (Figure 5).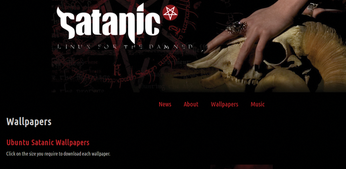 Ubuntu Satanic is not a Linux for devil worshipers, however; in fact, one of the 666 set has already complained. Comments on the About page [12] include this note: "Being a Spiritual Satanist myself a lot of this I find offensive; maybe if you themed it more on satanism and less on dark images and heavy metal, I might be more interested." Hurt feelings aside, that quotation makes the main thrust of the Satanic Edition clear – it was aimed at heavy metal fans.
On the website, wallpaper with fire, skulls, and half-naked women await in random order, as well as heavy metal inspired music collections, bearing names like "Music for the Damned" or "Distro of the Beast." The whole thing was probably intended for humor; a link to the Undead Live CD (version 666.9) was left on the website with a completely outdated Ubuntu 10.10 and Gnome 2 for its desktop. Seriously diabolical!
Heaven Help!
Christians have it slightly better. DistroWatch admittedly considers the Ubuntu Christian Edition [13] (Figure 6) to be "sleeping," although the underlying Ubuntu 12.04 will keep receiving updates until April 2017.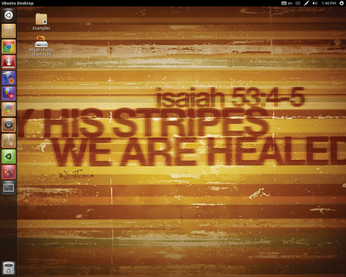 DansGuardian ensures that, while surfing, children do not accidentally land at the aforementioned works of the devil; Christian tools like Xiphos (Bible studies) and OpenLP (presentation platform for churches) are on board. Most pilgrims to the website come from the United States, followed by Poland, incidentally.
Sabily was the name of the Ubuntu Muslim Edition produced in France [14], yet it rolled up the rug in 2011, quite likely because the individual tools found in the Muslim Edition can be installed without any trouble in the standard Ubuntu. According to Wikipedia [15], Sabily preinstalled Arabic language packs and provided programs for Koran studies, an Islamic calendar, and reminder software for prayer times.
Other versions of Sabily were planned, but in fact, Ubuntu 11.10 with Unity desktop is the last available version. Sabily no longer receives support, which is why DistroWatch deems the distribution dead. There is a slightly stuffy counterpart to Sabily called Ojuba Linux [16], which is based on Fedora. The latest version of this Arabic distro with some Islamic tools is from March 2014.
Wellness and Pasta
Many of the secular Linux set regard Buddhism as wellness put into practice, but in the case of Bodhi Linux [17], it is not immediately apparent how much religion and wellness are embedded in the Ubuntu-based distribution. Bodhi comes from the same word root as Buddha and represents the Buddhist process of realization. Moksha Desktop (Figure 7) also travels this path, with the word approximately standing for salvation and enlightenment.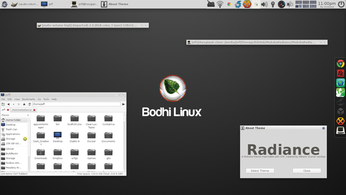 On the other hand, illumination is also implicit in the name of the Enlightenment 17 desktop, meaning that perhaps Moksha is just a translation of the word. In any case, Bodhi does not pre-install any special religious software, and the current version 3.2 was released in March 2016. That makes Buddha happy.
However, His Pastalike Divinity, the Flying Spaghetti Monster [18], could not look upon his followers and the landscape of Linux distributions with as much good will. The Linux for Pastafarians, once half-jokingly announced by Linux Format [19], will probably remain a parmesan-sprinkled wish. So far, no sieve-wielding developer or pirate has been found to gather together the central beliefs on a Linux desktop.
If Linux were some kind of religious competition, Buddhism would probably be ahead on points, since only Bodhi Linux awaits with an up-to-date creed.
comments powered by

Disqus
Visit Our Shop
Direct Download
Read full article as PDF: