Five screencast programs tested
Action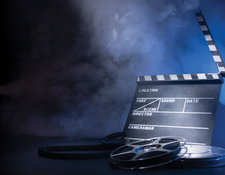 To make audiovisual content easy to understand, you can use screencast programs, of which Linux has a few.
Multimedia learning has long been established in companies and government agencies. Screencasts, which reproduce the screen content of computer systems as video sequences, along with spoken instructions from the tutor, are an important tool. Whether they are simple operating procedures in word processors or complex commands in a higher programming language, screencasts can contribute to the understanding of interrelations in information technology.
Problematic
In the Linux world, many free projects have engaged in screencast software development. However, some obstacles make it difficult to use: For example, Linux uses two sound architectures – ALSA and OSS – and no fewer than three current sound servers in the form of ALSA, PulseAudio, and Jack. Two different multimedia frameworks compete for the task of handling recording, playback, and encoding/decoding of audio and video data: GStreamer and FFmpeg. Add to that an almost unmanageable number of video and audio codecs. Because some screencast programs also depend on specific graphical component libraries like GTK+ or Qt, they will not integrate seamlessly with just any old desktop environment.
Apart from these differences, before you can use a screen recorder, you also need to note that the functionality of individual applications differs; this means that not all programs may be fit for the intended purpose: Some screencast applications lack the ability to record content from windows, which makes it impossible to use them on virtual machines. Others cannot grab sections, and some can only record video sequences, but not audio content.
For this article, I only looked at those programs that can handle sound and video recordings and allow them to be used universally, which includes capturing windows. Another criterion is active development of the project.
The Candidates
The test candidates were the fairly basic Kazam, the old hand recordMyDesktop, the comprehensive new development SimpleScreenRecorder, and the intuitive Vokoscreen. Krut, published under the GPL, was also tested as the only Java program in the field.
In addition to the feature scope (Table 1), the test attaches importance to seamless desktop integration and a mature operating concept. I also wanted the programs to use popular codecs – after all, you want the movie sequences you generate to be playable anywhere.
| | Kazam | recordMyDesktop | SimpleScreenRecorder | Vokoscreen | Krut |
| --- | --- | --- | --- | --- | --- |
| Full-screen recording | Yes | Yes | Yes | Yes | Restricted |
| Window recording | Yes | Yes | Yes | Yes | Restricted |
| Section recording | Yes | Yes | Yes | Yes | Yes |
| Magnification | No | No | No | Yes | No |
| Audio disable | Yes | Yes | Yes | Yes | Yes |
| Selectable codecs | Yes | Yes | Yes | Yes | No |
| Selectable formats | Yes | Yes | Yes | Yes | No |
| Webcam support | No | No | No | Yes | No |
| Timer | No | No | No | No | Yes |
| Countdown | Yes | No | No | Yes | No |
| Mouse pointer disable | Yes | Yes | Yes | Yes | Yes |
| Preview window | No | Yes | Yes | No | Yes |
Kazam
The Kazam [1] screen recorder has been under development since 2010; it is based on the GStreamer framework and supports PulseAudio. Kazam comes with a few dependencies and is maintained in the repositories of all the major distributions, which makes installation easy. The software is frugal when it comes to the desktop environment: KDE, Gnome, Unity, and less common environments such as Cinnamon are supported.
After installing with the package manager, you will find a launcher in the Multimedia menu (sometimes called Entertainment, Sound & Video, or something similar). Clicking on the program name displays a simple, intuitive program window (Figure 1).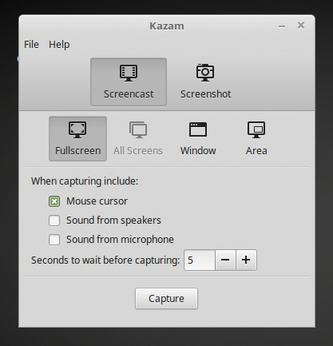 You can only control the use of loudspeakers and microphones and define a delay until the screen recorder starts. Two buttons in the upper section of the program window let you define whether to use Kazam for screencasts or screenshots.
Open File | Preferences to configure the software. The simple options in the Screencast tab lets you configure the frame rate and output format (Figure 2). Although VP8 (WEBM) and H264 (MP4) are available, bear in mind that not all current media players can handle the VP8 (WEBM) standard. The storage location for the video can also be defined in the Preferences dialog.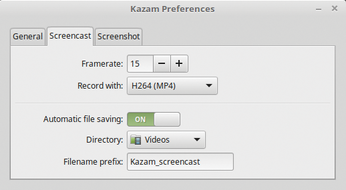 The two video formats make Kazam universally deployable: The VP8 (WEBM) codec delivers good image quality at lower resolutions and is suitable for web applications or mobile devices. The H.264 MP4 standard is more likely a solution for professional movies.
After starting the recording, the software shows a camera icon in the system tray of your desktop. Clicking on it opens a context menu in which you can stop or pause the recording. When you stop recording, the program window appears on the desktop. In the Settings dialog, Kazam offers to automatically save the recorded video sequences in a freely definable directory. If this option is enabled, you need not worry about saving.
comments powered by

Disqus
---
Support Our Work
Linux Magazine content is made possible with support from readers like you. Please consider contributing when you've found an article to be beneficial.
---