FOSSPicks
Stacer v1.0.4
Optimizing your system used to be a little like making an offering to the gods. You needed to do it with some regularity or your system would suffer strange consequences. This was mostly to do with the cost and limited capabilities of hardware. We didn't have CPU cycles to spare, and storage space was at a premium. The solution was to monitor CPU usage, memory usage, disk space, and networking, and to remove wayward processes, temporary files, and unused packages whenever necessary. Cheap storage and insanely powerful computers have mostly taken the necessity out of this requirement, but keeping an eye on your system is still worthwhile.
Stacer's unique selling point, and it's primary motivation for getting you to monitor your system, is that it looks gorgeous. It has a beautiful user interface that scales smoothly and then dynamically updates to reflect any changes on your system. Start to download something, and the Download meter gently bounces to show the bandwidth being used. CPU, memory, and disk space are similarly monitored, and there are four further pages for options on cleaning out the cruft on your system. System Cleaner will remove old logs and application caches. Startup Apps lets you easily see what's launching when you login. Services shows what systemd has enabled, and Uninstaller is for removing unneeded packages. It all works brilliantly and actually makes you want to refine your system. The only negative is that it's fine-tuned for Ubuntu only, but I could not find anything terribly Ubuntu specific, so there's a good chance it will either work with other distributions anyway or do so after a small update.
Project Website
https://github.com/oguzhaninan/Stacer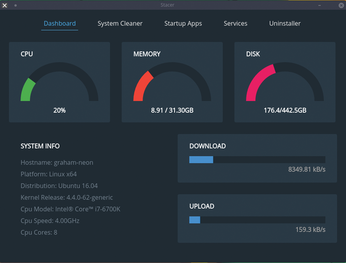 Screenshot tool
Shots 1.2.0
As writers, we may need screenshot tools more than most. Just look at the number of images in this section of the magazine, for example, then multiply that for an entire issue, and then each new issue. But, screenshot tools are useful for everyone, and you probably want a tool that works quickly, is transparent, allows you to easily denote a region, takes a screenshot after a delay, and saves as PNG. As a bonus, if a tool can sensibly increment a filename without a file requester, it gets my vote. If a tool can offer annotations while doing all this, it will win my heart.
No single tool has quite gotten this right. I currently use KDE's Spectacle for its sensible file naming and low profile, along with Hotshots for quick annotations. Hotshots does both, but I find its interface a little too clunky and slow to use. Shots, however, is a new and excellent contender. Not only does it unobtrusively take screenshots – either from the clipboard or from a menu action – it will also let you perform all kinds of manipulation on an image. Most importantly, it will let you quickly annotate an image with text and a draggable arrow, alongside the ability to scribble across your image with a mouse-driven red pen. You can then share or save your image with popular services like Dropbox or Imgur, or on Facebook and Twitter social media accounts. As I'm also a strong believer in doing things yourself, you can automatically upload images to your own server with a small piece of code, which is useful if you commonly work on more than one machine. Shots is a quick, one-step screenshot generation tool that will help you be more productive if screenshots are part of your working life.
Project Website
https://github.com/binjospookie/--shots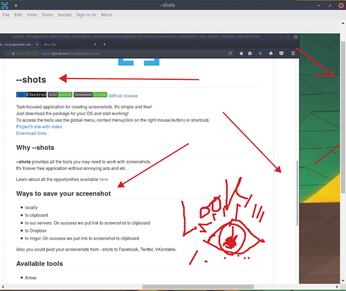 comments powered by

Disqus
Visit Our Shop
Direct Download
Read full article as PDF: