ROI
maddog's Doghouse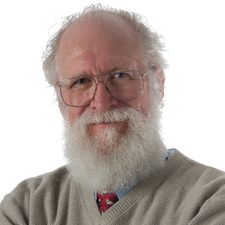 "maddog" ponders how our actions affect others in ways we cannot predict.
The uncle of a friend lies in a hospital bed, dying. The last few days I have had a writer's block waiting for a horrible, deadly disease to run its course, and I think about another man's life and what it has meant to my own. We touch each other in ways we may not recognize.
The month started out fairly well. I went to CeBIT, one of the world's largest computer and telephony shows in Hannover, Germany.
I've been going to CeBIT for 16 years, representing Free and Open Source Software (FOSS) – first with a tiny 10x10 foot (3x3 meter) booth, handing out CDs filled with various distributions of GNU/Linux. Over time, one booth grew to 20 booths and gradually became a pavilion filled with vendors. The pavilion then became the "Open Source Park," and I have been asked to present several talks every year about the benefits of using FOSS.
This year, as I was preparing for my first talk, a man came up to me and introduced himself. It turns out that 15 years ago I had traveled to Hong Kong and given a talk there. He had listened to my talk and started to follow the Free Software path; now he was a successful businessman in Hong Kong, and he wanted to know if I would visit there again and give more talks. I told him that in order to do so, I would need an invitation as well as transportation and accommodations. He acknowledged those issues and said he would be in touch.
Later that day, another man told me that 10 years before at CeBIT, when he was a college student, he had listened to me talk about Free Software. He told me that I sat with him and went over the reasons Free Software was the way to go. He later worked at a company that had a product that was "mostly" Open Source, but as the company went on, they forked the product and created a completely Free and Open Solution, and the product had simply taken off. He was now the Chief Technical Officer of his company, and this company was doing fine with an "all FOSS" product.
Then, at the coffee bar, a man offered to buy me a cup of coffee. He was from Italy, and his company made rack-mounted switching gear. He had convinced his management to go Open Source, following the advice I had given to him years before, and his management told me how much this guidance had meant to them.
Every year while attending CeBIT, a group of us go to a restaurant called the Munich Halle, where we enjoy great food, drink good beer, and talk about FOSS. This year was no exception, and as I sat there I thought about the friends sitting with me and how FOSS had brought us all together. One of the people was a young man who has been coming to CeBIT for several years. One year, he sat through all of my talks, taking notes on what I said. Naturally, I was impressed by this and invited him to join us for dinner, which he has done every year since then. This year he pulled out a Raspberry Pi, told me it was one of several that he had, and said that he loved "developing things that only geeks would love."
After I returned home from CeBIT, a Facebook friend told me that they had followed my advice and had moved from a job working in a supermarket in Brazil to being a programmer, but was now going to pursue their interest in art, having placed some of their art in galleries in New York City, London, and other large cities. My advice to that friend had been "work hard, be visible, don't give up."
My friend's uncle is going to die, but the uncle was lucky enough to see the results of his life affecting other people. The uncle was lucky enough to feel the love of those people that he inspired with his actions. I am lucky enough to see people who have been inspired by my talks and by the principles of FOSS.
Take some time from your busy lives and reach out to someone outside your immediate family. You may never see the final return, but it will be there.
comments powered by

Disqus
---
Support Our Work
Linux Magazine content is made possible with support from readers like you. Please consider contributing when you've found an article to be beneficial.
---