Graham tears himself away from updating Arch Linux to search for the best new free software.
Cumulus 3.0.2
In the UK, the weather is particularly dynamic, sometimes going through several seasons in a single day. This may explain why we're all obsessed with reading weather reports and watching weather broadcasts. You always need to know whether the weather will change or stay the same. Linux and its various desktops aren't short of tools that give some kind of weather forecast. Because these tools are often simple to write, they were some of the first applications you could download for your desktop, and they're a prerequisite for panel widgets. But it's always nice to see a new tool that's well designed, like Cumulus.
Using either OpenWeatherMap or Yahoo for its data, Cumulus will take a location and render a five-day forecast simply into a different window. The icons and style are excellent, with monochrome images used for the different weather types plus a descriptive line on what the weather is going to do, and the whole window package scales perfectly, whether you leave it as a small square on the screen or a larger window on the background. Additional details include the current weather, temperature, humidity, pressure, wind speed, and sunrise/sunset times, which are all genuinely useful. The tray icon can be enabled from the settings, which will show you the current temperature as a simple panel applet. As you might expect, you can also change the units used and the colors. It's simple, but you don't need any more controls. One unusual feature is that it can run from an installer that will install the executable binary locally for a single user. This may help if you're running on a machine without root access or want to limit the liability that something may go wrong.
Project Website
https://github.com/vadrian89/cumulus-qt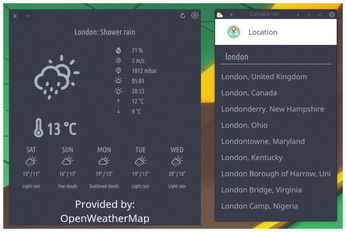 PDF Viewer
Krop 0.4.12
PDF has become the dominant format for lots of offline reading content, as well as some online content unfortunately. It's the only format that works on a screen as well as on a hard copy when needed. But if you do a lot of PDF reading, one aspect becomes very annoying – you always have to readjust, zoom, and recenter your display to best fit whatever document you're looking at. Even then, you often have to manually scroll around a page to see a full line of text or down to the very bottom to see enough of the text. And, your settings are then never saved with the PDF, which means you need to perform the same actions next time.
Krop is a small ingenious little app that can really help in these situations as well as in more complex examples, such as when a single page of a PDF contains what would be on multiple physical pages. With Krop, you load up a PDF and use the selection tool to highlight an area of a single page. It could be the text without a margin, or only the top half of a document. If it is just the margins you want to remove, a button will perform the same step with a single click. With areas selected, a click on the smiley Krop! icon will generate a new PDF file that only contains the highlighted area. Even for complex documents with many pages – such as an issue of Linux Voice – this only takes a few moments. You can then read or archive the new more usable version. Krop is also capable of more advanced operation. You can create multiple regions, for instance, and each will be cropped into their own files. And you can select all pages, odd/even pages, or just single pages. It works brilliantly.
Project Website
http://arminstraub.com/software/krop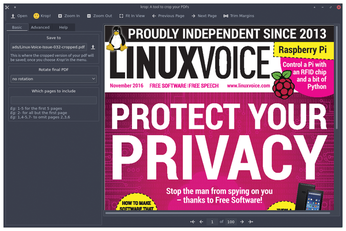 comments powered by

Disqus
---
Support Our Work
Linux Magazine content is made possible with support from readers like you. Please consider contributing when you've found an article to be beneficial.
---