Solus
FAQ
This community-funded distro has big ambitions: a new desktop and rolling releases.
Q: So, I'm guessing that this is an operating system, and since this is Linux Magazine, I'm guessing that it's a Linux-based operating system. Am I right?
A: Yep! Keep going, and you can do my job for me.
Q: Actually, that's about as much as I can guess. What else can you tell me about Solus?
A: If I had to sum up Solus in a sentence, I'd go with: An everyday Linux distribution built to be user-friendly.
Q: Well that sounds like the marketing bumf from just about every distro other than Slackware and Arch. Exactly how is it built to be user-friendly?
A: There are two main areas that differ between Solus and most other distros, the Budgie Desktop (Figure 1) and the fact that it's a curated rolling release.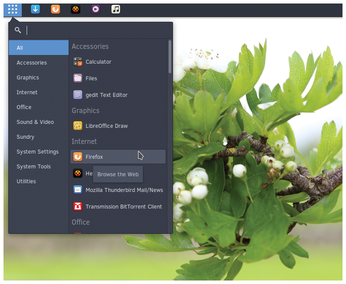 Q: I didn't understand any of that. First off, what's a Budgie and why is it on the desktop?
A: The Budgie desktop is developed by the Solus team to be a modern desktop that doesn't throw away too much of the desktop tradition.
Q: Is that a sly way of saying that it's not too much like Gnome 3 or Unity?
A: A little. Those are both great desktops, and for some people, they work really well. However, they both departed with more than 20 years of desktop orthodoxy. In some ways, this gave them space to innovate, but in other ways, it meant that they were disposing of metaphors and ideas that had been refined over the decades that worked really well for a lot of people. Budgie aims to blend the best of both worlds. Desktops are highly subjective, but I like Budgie and think that it's well worth a look for desktop enthusiasts.
Q: Of I want to try Budgie, do I have to download Solus?
A: Not necessarily. The desktop is intended to be distro agnostic, with builds for Ubuntu, Arch, and others. That said, it is built by the Solus team, so you are likely to get the best Budgie experience on this distro.
Q: Now for the classic desktop question: Is the desktop based on Gtk (like Gnome), Qt (like KDE), or something else?
A: Well, you raise a more complicated question than it first seems. The Budgie desktop has historically been built on Gtk, and used Gnome software. However future versions will be built with Qt. Despite the switch in toolkits, the default software (Figure 2) will still come from Gnome.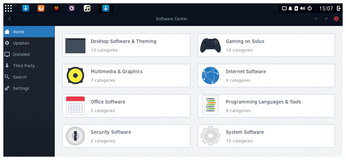 Q: Wait, you mean it'll have a Qt base with Gtk apps? Won't that look a bit strange?
A: Not necessarily. Provided the themes sync up, the user really shouldn't notice the difference. After all, Ubuntu's Unity desktop was written in Qt, but it also shipped with Gnome apps.
Q: OK, now what about the other thing. Did you say it was rolling release?
A: Yep. That means software is continually updated. Rather than having new versions of the distro every few months or years, there are just gradual changes; once you install it, you should never need to reinstall it.
Q: Ah yes, like Arch Linux. I've heard that this style of thing takes quite a bit of time to keep on top of.
A: Well, yes and no. Obviously never having to reinstall means you save time there, but rolling releases gave other issues. In particular, sometimes there do have to be major changes, and without a new release, that can be tricky to manage. However, Arch and Solus approach the problem in different ways, because they're targeted at different types of users. Arch is a techy distro for tinkerers that want the ability to control the minutiae of their system. This means that every Arch install is different; when things change, it affects different systems differently, which basically comes down to tweaking things manually to get changes into the system. Solus, on the other hand, is far more controlled, in that it doesn't let you (or at least doesn't support) making low-level tweaks. In principle, this means that the path should be smoother; however, we don't yet really know because Solus has only been a rolling release since the start of 2017. Only time will tell if it can really manage to be a rolling release system that works for regular computer users.
Solus is also a bit different from Arch, because it doesn't try to blast out the very latest software all the time. Instead, it waits until the software has been tested by real users in the real world before releasing it into Solus. Again, this isn't a good or bad thing, but it represents the target audience. By sacrificing the very latest software, Solus users should get a bit more stability and reliability, but again, we'll have to wait and see if this decision pays off.
Q: The key question for every distro is: Should I install it?
A: And the answer for every distro is: It depends. Solus is becoming a really good distro and definitely one that you should consider if you're after a new setup. There isn't, and probably never will be, a single distro that everyone should use, but Solus is shaping up to fit certain people really well. If the curated rolling release can continue to live up to its promise of delivering a single install that continues to "just work" year after year, and the Budgie desktop survives its switch to Qt with its style and ease-of-use intact, then it will be a great option for casual Linux users. The path to a great distro is, however, strewn with many valiant attempts that failed, and it's hard for a small team without any commercial backing to continue to produce great work year after year.
Q: I really like the sound of Solus. Is there anything I can do to help the project reach its full potential?
A: Yes! As I said, the project doesn't have any commercial backing, so funds are tight. If you like Solus, then donating a few pounds, euros, or dollars can help employ the people that make it great. Well, we say people, but at the time of writing, the project had just employed its first full-time developer, Ikey Doherty, the project leader. If you can't (or don't want to) support the project financially, you have all the usual ways of helping, instead, such as reporting bugs, working on new features, or helping other users on the forums.
You can find details of how to support the project either financially or through activity on their website [1].
Q: Ikey Doherty? That name sounds familiar.
A: You may have come across Ikey as one of the presenters on the excellent "Late Night Linux" podcast. As well as being an entertaining romp through all things Linux, this podcast is a great place to stay up to speed with developments in Solus.
Great. I'm off to download Solus and give it a try.
comments powered by

Disqus
Visit Our Shop
Direct Download
Read full article as PDF: