FOSSPicks
Natron
Natron, like Blender and Krita, is one of those applications that has been in development for a long period of time and has become a significant cornerstone for an entire industry. Yet those of us without a specific interest in animation or video might not realize just how powerful and capable Natron has become. Natron performs the graphical equivalent of audio mastering, letting you process and mix video and image data from multiple sources to superimpose other video or rendering layers, improve the output, and add postproduction effects. In the world of video and image, this is known as compositing – the combination of these various sources into a single output. It's a little like using Gimp to fix an old image, add color and improve the contrast, and superimpose a UFO hovering in the background, only Natron does this with moving images, dynamically, and, crucially, using a node-based user interface rather than a layer-based one.
Applications like Gimp, Adobe Photoshop, and, more similarly, Adobe After Effects (an application that serves the same purpose as Natron) implement these processes through layers, where each layer is normally reserved for a separate process or effect. A node-based user interface, on the other hand, replaces layers with separate processes (nodes) that you manually choose how to link together – just as you would modules in a modular synth; this gives you more control. The simplest example uses a Join Views node linked to two views with a single output, the contents of which is a mix of the two inputs; however, nodes can be used for anything, from color correction and lens distortion to rotoscoping with masks. Natron even has commercial nodes that can be used alongside the huge number of open source nodes that are bundled with the default package.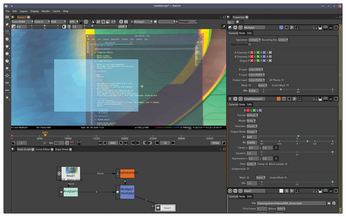 After you get the idea of nodes into your head, Natron is actually straightforward to use. Drag image and video sources into the node area and start connecting nodes between these sources and the viewer showing the output. Above this node area is a preview of the processed output, complete with navigation controls, and it's from here that you also step through frames and keyframes. The key-frame mechanic is particularly powerful; this is used to change elements within each node over time. If you want to change a color value at 30 seconds, for example, and get this to merge into another value at 35 seconds, you'd right-click on the value within the node parameter pane, add a keyframe at both the first and the second point, and then use the Curve Editor to edit the various spline and straight line options for the transition. It's easy to see what's happening and get the curves to make any transitions to feel as natural as possible – just as you might automate audio effects in a piece of audio software, to keep the audio analogy.
Natron is a wonderful piece of software. If you've ever played with any kind of video editing to create effects, it's going to provide you with all kinds of potential, and there's enough fine-grained control to produce professional results. That a project like this is open source is fantastic, and hopefully, the developer can earn enough from selling support that it remains at the cutting edge of video processing throughout the entire 3.x release cycle.
Project Website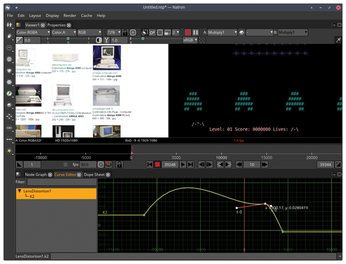 ARPG game engine
Solarus
When you take a look at Solarus, it's clear where its inspiration comes from – Nintendo's classic Legend of Zelda: A Link to the Past. This amazing game has shaped so much of what came after, it's difficult to know where to start. Its oblique 2D graphics, storyline, combat, and overall aesthetic are still the blueprint for many games, even when they've moved to 3D game engines and added social networking features. But there's a considerable following for the original style, too, with even new games being produced that stick close to that pixilated template. This is obviously an area ripe for community involvement. Solarus is both a game engine and an editor that enables anyone to create games like these, and that's exactly what its community of users have been doing.
Before you get started, though, you'll need some assets. The original Zelda assets obviously can't be redistributed, but attempts have been made to fill in the missing files (the data files that Solarus expects to find in a specific location), and you can always draw your own or hook a few artistic friends into the project. The editor itself is really easy to use, combining media browsing with map editing and the Lua code required to bind everything together. There are several examples you can use to help with your own project, and creating a game like this is very effective, especially if you enjoy playing these kinds of games as it opens an entirely fun and new aspect to the genre. The project includes a graphical app that's used to manage your installed games, the quest editor, and the run command for launching quests, and the games created by Solarus can be made to run on anything from Android to Amiga!
Project Website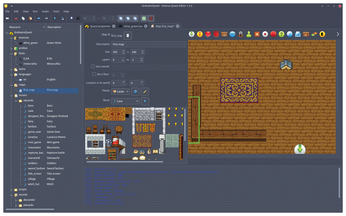 comments powered by

Disqus
Visit Our Shop
Direct Download
Read full article as PDF: