FOSSPicks
PS3 emulator
RPCS3
Emulators are amazing. They keep old consoles and computers alive when the companies that built them have either mismanaged themselves into oblivion or moved on to "freemium" titles for smartphones. Although it's difficult to believe that Sony's remarkable PlayStation 3 (PS3) is now over a decade old, it's not so difficult to guess why its hardware has yet to be adequately emulated. The venerable PS3 uses an esoteric CPU, consisting of one PowerPC-based core alongside eight Synergistic Processing Elements (SPEs) and its GPU. This architecture makes the PS3 a particular challenge to emulate, especially on x86 hardware, but it's beginning to look like it may finally be possible.
RPCS3 is still very much under development, despite that development starting in 2011, but it's getting tantalizingly close to being usable. In fact, it's getting so close that its developers claim just over 12 percent of all PS3 games can now be played through on the emulator! Because the current download is a .AppImage, it can be run in place, and you'll also need to download Sony's firmware separately. Fortunately, you're spared having to rip this from your console. Just point the emulator at one of Sony's official updates, and it installs the firmware itself. After that, you'll need to use your own games to get up and running. RPCS3 runs remarkably well – well enough to actually play some of your old favorite games, and even some newer ones. Thanks to Vulkan support for GPU drivers and a huge plethora of recent performance improvements – notably rewriting the vertex GPU processing – many games can run smoothly on a modern system, and there are plenty of options to squeeze the most out of your hardware. You can also configure your keyboard to act as a games controller if you don't have one handy. RPCS3 is incredibly clever and fast; more fundamentally, it works.
Project Website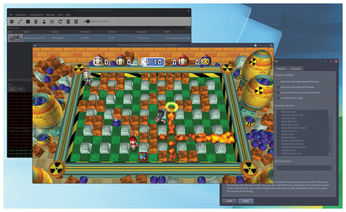 comments powered by

Disqus
---
Support Our Work
Linux Magazine content is made possible with support from readers like you. Please consider contributing when you've found an article to be beneficial.
---