FOSSPicks
File listing
Exa 0.7.0
On the terminal, ls is surely a contender for being one of the most used commands. Typing ls is often muscle memory for those of us who often navigate the filesystem from Bash, checking the contents of directories or the sizes of files. It's quick to type and often just as quick to deliver results, and there's never been a really good reason to replace it. However, this command – exa – offers enough upgrades over vanilla ls that it might be worth the alias in your bashrc. However, there are several big differences when using exa, and the first you'll notice is the output, especially long -l output. The output from exa is always full of color – and not just color for its own sake, but functional color. Each permission has a different hue, for example, as does the Date, owner, and Name columns. You can also view extended attributes and sizes, making the additional colors both easier on your eyes and a valuable addition when surfing through hundreds of files.
This profusion of color is not the only advantage exa has over ls; exa includes a tree view by default, which is still the best way of getting a good overview of your system if you can't access a GUI. You can even see which files are staged and unstaged when navigating a Git repository. Git integration may seem niche, but it's very useful if you don't use something like Powerline, as you often navigate projects from the command line while executing git status to see what's staged. Because of the way the arguments are written and because of some of the extended options, exa can't directly replace ls, and typing exa is certainly more laborious than the two finger rapidity of ls, but I've found it useful enough to replace ls in most circumstances, especially with the
exa -bghl --group-directories-first --sort name
set of arguments, which can easily be used as an alias for ls -al.
Project Website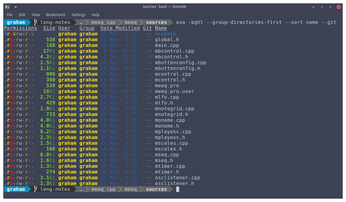 System monitor
comments powered by

Disqus
Visit Our Shop
Direct Download
Read full article as PDF: