FOSSPicks
FOSSPicks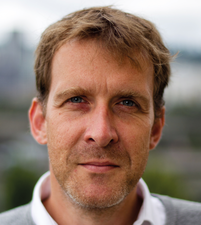 Graham nearly made it through an entire month of FOSSPicks without an esoteric audio discovery. And then he found VeeSeeVSTRack.
Home designer
Sweet Home 3D 6
Looking at a screenshot of its Java-driven UI, and perhaps at its name, it's easy to dismiss the home designer Sweet Home 3D as something slightly gimmicky that might be more useful as a toy or for entertainment. But this is definitely not the case. In fact, we know people who have used this software to design a real home and then go out and build it, from the outside structure right through to the inside room layout. Not only does it let you design the external structure of your buildings using exact measurements, it lets you plan your living space, filling it with furniture and all the other things you'd expect. This is important, because, if you've oriented your building correctly, it allows you to see where the light will fall, your view from a certain position, or whether you can squeeze past the grand piano into the kitchen. If you need to know where to place the windows to see the mountains from your bedroom, this is the application to use.
It all starts with a simple plan. You create rooms by creating 2D polygons, just as you would with a drawing app like Inkscape. Select Add walls and you can snap vertical walls onto your creation. As you make all these changes, the 3D preview updates in real time, so you can see what your abode will look like from a first-person view. This extends to when you start furnishing your creation by dragging and dropping elements from the vast library of models that are categorized by room. There are two living room armchair types, for example, and three staircase types. Double-click on one of these objects, and you can change its size, its orientation, its shininess, and even its texture and material. It's easy to lose hours trying to get everything exactly right, or changing options to see what things look like in a different color or with a different theme.
Sweet Home 3D has been in development since 2005, which is why it has such a rich set of features and such a huge library of objects. Version 6 is a major update with lots of new models, many replacing older and more dated versions, all released under a GPL or CC-BY license. This added detail extends to changeable screens on the laptop model and the picture frame, and even a mirror that actually reflects. But our favorite is the mannequin object that you can drop into your scene. Double-click on this and select Modify deformation, and you can drag the mannequin's limbs around to put them into the exact position you need, whether that's lounging on the sofa or playing the arcade machine.
When you've finished designing your perfect home, the 3D view menu allows you to export the scene as an OBJ file. This can then be used by other 3D applications, such as Blender, to create a photorealistic render of your home. Or as we did, load it in Unity 3D and use SteamVR to walk around your dream house in virtual reality – a perfect, and cheaper, way to make sure your designs make sense.
Project Website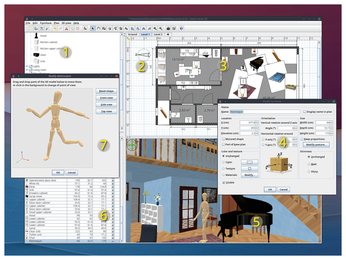 Virtual modular synth
comments powered by

Disqus
---
Support Our Work
Linux Magazine content is made possible with support from readers like you. Please consider contributing when you've found an article to be beneficial.
---