FOSSPicks
EP-MK1
Recently, both game developers and audio software developers have publicly talked about how supporting Linux can be difficult when they weigh low Linux sales against the number of bug reports and problems reported by Linux users. There are various legitimate reasons for this, including distribution disparity and a potential bias for Windows-based toolkits, but there's no doubt that both need the support of Linux users if we want to see more games and more audio software released. Which is good enough reason to give this wonderful electric piano emulation a go, especially as it's both free and open source. It's also no coincidence that it comes beneath the above find, Camomile, because Camomile was used to build it, along with the venerable Pure Data.
EP-MK1 emulates the sound of an electric piano, and specifically, the sound of a classic Rhodes electric piano. Even if you can't recall the sound, there's little doubt that its character is already burned into your neurons from its use on The Door's "Riders on the Storm" and hundreds of jazz standards to its use on the Blade Runner soundtrack to add a certain lost nostalgia amongst Philip K. Dick's kipple. And the brilliant thing about this kind of sound is that, unlike an acoustic piano, emulations like this get very close to the original sound, allowing you to turn your computer and MIDI keyboard into an equally expressive musical instrument without the cost or the maintenance. EP-MK1 gets very near to the sound, and its tine-like timbre plays brilliantly from a keyboard, thanks to the velocity controlling both the amplitude and filtering of the modelled key action. You have control over the sound of the tone via its envelope and level, its route through the emulated pickup, and the final tremolo amount. You can also adjust the specific tuning for each note in the scale, allowing you to experiment with micro-tuning and outlandish musical styles.
Project Website
https://github.com/MikeMorenoAudio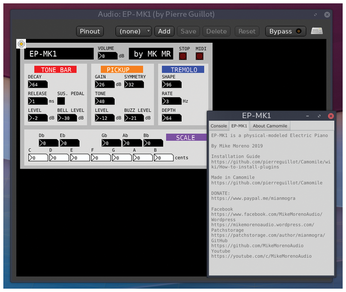 Time tracker
Chrono
If you work from home, or work for yourself, a time tracker is an essential tool that can not only help with productivity, but help when it comes to invoicing clients, estimating the timing and velocity of a project, and tracking your own efficiency. But to be effective, a time tracker has to be as efficient and as transparent as possible. In particular, it needs to be as simple as possible. Too complicated, and the effort required to maintain a log, or context switch between your work and your time tracker, makes the tracking process itself inefficient. This is especially true if you're working on the command line and need to switch to a GUI. This makes Chrono ideal.
Chrono is a command-line time tracker that offers a comprehensive set of features while remaining simple and quick enough to slot into even the busiest schedules. With the tool installed, you start a project by typing chrono start <project name> followed by a + tag. You can now add comments just as you might with a git commit while programming. You can then review your comments, and when you're ready to move on to something else, simply type chrono stop. After this, start working on a new project with the start command. You can also add to a previously created project by reusing its project name (typing chrono projects lists all the projects about which Chrono knows). Each new chunk of work is called a frame, and each has its own unique identifier, regardless of to which project it belongs. This is great for invoicing, and you can always go back and add or edit a specific frame if you need to add your own notes. The entire work output can then be displayed by typing chrono log.
Project Website
https://github.com/gochrono/chrono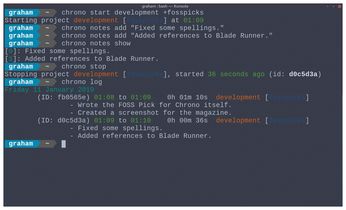 comments powered by

Disqus
---
Support Our Work
Linux Magazine content is made possible with support from readers like you. Please consider contributing when you've found an article to be beneficial.
---