An alternative to Docker, Snap, and company
Uninstall
To uninstall a stack, you can use the uninstall routine in the respective directory. Clicking on it starts a graphical front end, which first asks you if you really want to remove the stack. As soon as you confirm this, Bitnami will stop all of the stack's active services and uninstall the stack completely. The routine shows the progress with a progress indicator.
VMs
Bitnami also provides numerous servers as preconfigured VMs in OVA and VMDK format that can be started as virtual appliances in VirtualBox, VMware, and KVM. VMs like this are particularly suitable for the simultaneous use of several services on a system that offers sufficient performance.
As a further advantage, each appliance runs in an isolated environment, which makes operations far more secure. Compared to the stacks, the VMs are far larger: File sizes over 1GB are not uncommon. This is due to the fact that the virtual appliances always come with a completely preconfigured, slimmed-down operating system.
After downloading the appliance from the project page, integrate it into VirtualBox by selecting File | Import appliance in the menu. The import then takes place in a multiple-level dialog; the setup also shows you the preset resources. If necessary, you can modify the assignment, just like for a VM created manually, at any time in the Change dialog (Figure 4).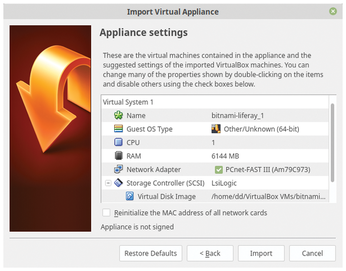 Then start the appliance in VirtualBox like any manually installed system. The Bitnami machine first boots a Debian 9 system and then enables the preconfigured services. Then, the VM displays credentials for accessing the server services through a web browser, including the IP address, username and password, and the credentials for the console on the VM (Figure 5).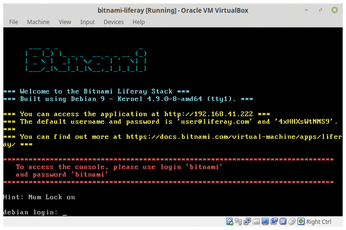 You can then log on to the server-based services with these credentials and work with them like on a dedicated server. You can make changes to the configuration of the machine or uninstall it using the VirtualBox dialogs.
Conclusions
Thanks to Bitnami, complex server-based services can also be set up quickly and easily at home or in a small enterprise. Instead of reading extensive documentation, downloading countless packages, and installing and configuring them individually, you only need a single stack courtesy of the Bitnami project. The basis is either a Linux system or a virtual environment such as VirtualBox or VMware. Obsolete libraries or missing dependencies are a thing of the past. You can install the stacks with just a few mouse clicks – in our lab, they always worked reliably. And if anything is unclear, the detailed documentation will help you.
comments powered by

Disqus
Visit Our Shop
Direct Download
Read full article as PDF: