Sparkling gems and new releases from the world of Free and Open Source Software
FOSSPicks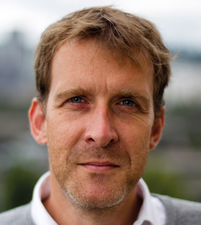 This month's FOSSPicks was nearly lost in a stream of AES-256 noise, as Graham struggled to get his encrypted Linux installation (using LUKS) to live alongside an encrypted macOS installation (using APFS).
Cloud music player
Olivia
Olivia looks like a standard three-panel music player, with links to albums, artists, and playlists on the left, the player queue on the right, and a context-shifting middle pane. But it's not. Rather than helping you manage and maintain your own music collection, Olivia has been designed to simplify access to music that's typically played and discovered online. It's currently in an alpha testing state, and not all the features shown in the user interface (UI) are functional, but it's functional enough to be very useful and shows great promise. Type the name of a track into the search field, for example, and a list of image thumbnails for discovered tracks start to load into the middle pane, complete with details about the performer, release date, duration, and album. It's exactly as if the music is sourced from your local storage. A double-click adds the track to your queue from where it can then be played. The actual source for the music seems to be YouTube, from where the music is streamed stripped of its video content.
The UI scales and animates smoothly as you navigate through different search and playback modes, and it can even dynamically theme itself according to your currently playing track's artwork. There's a very neat "widget" mode, which reduces the UI to nothing more than the current track thumbnail and playback controls. This is a great way of removing the distraction of choosing music from the infinite possibilities of online resources. As you play tracks, they're added to your "collection," so you can easily play them back or manage them much like you would local files. Local music is supported too, and there's an excellent song recommendation system. Type in the name of a piece of music you like, and Olivia will come back with a recommendation for something it thinks (or the Internet thinks) is similar. It works surprisingly well.
Another aspect of Olivia we didn't expect to be so good is the Internet radio facility. This is a natural extension to the music search, and there seems to be an immense library of streaming stations to choose among, with the documentation claiming support for over 25,000 stations. It was certainly able to play whatever esoteric French jazz stations we searched for, and you can also list stations by location and language if you don't have a specific name to mind. As with the YouTube music searches, there's always a delay between your selections, when those tracks are added to the queue, and when playback starts, but this is likely to be due to caching. Big chunks of the middle pane seem to be rendered in HTML, making it sometimes feel like a browser. But the output is perfect, and you completely forget you're tapping into online music resources. This gives Olivia a real advantage over using a browser to do the same thing, because a browser (and YouTube itself) has so many other distracting elements that you never really stop and just listen to the music.
Project Website
https://github.com/keshavbhatt/olivia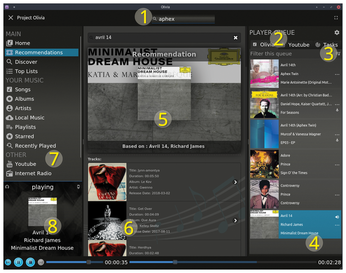 Partition Management
comments powered by

Disqus
Visit Our Shop
Direct Download
Read full article as PDF: