Integrated client/server solution
Software
Both variants of the distribution use the Synaptic graphical front end for package management. If you call this tool on the server, a message will first appear warning you about updating the server via Synaptic and pointing to the corresponding Updates | Update Server option in the web-based configuration interface. Synaptic should only be used to install additional packages and programs. More than 60,000 packages are available after updating the sources.
The client integrates numerous additional repositories into Synaptic that do not only contain software by the Linux Schools project. This explains why the front end lists more than 62,000 packages. The client can also be updated using traditional update methods without disrupting services.
The client already offers a solid basic selection of programs for daily use. Besides LibreOffice, Firefox, Thunderbird, and Gimp, it includes the Freeplane mindmapper; in the Graphics category, it includes Scribus, Simple Scan, FreeCAD, and Blender. The Internet group includes FileZilla, FTP, and SFTP programs, and the Wireshark analysis tool.
The Multimedia submenu also offers a huge selection. Besides the Brasero and Xfburn burning programs, the recordMyDesktop screencast tool, the Ardour digital audio workstation, the OpenShot Video Editor, and the VLC media player are available. In the Accessories submenu, you will also find a virtualization environment in the form of VirtualBox.
Watchful
Karoshi Linux offers a variety of other features, such as remote client installation on multiple computers and sophisticated monitoring features. You will find the system displays in the web interface's various dialogs.
The Infrastructure | System monitoring menu provides meaningful graphics for a quick overview of the load on numerous system components. Its underpinnings are the free Monitorix tool, which Karoshi automatically dumps onto the storage medium during the server install (Figure 4).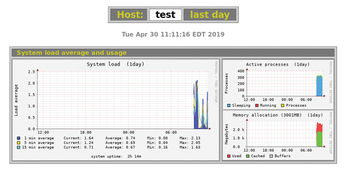 You will also find an Assets tab in the same menu that you can use to keep an inventory of all your intranet components, including video projectors and whiteboards. The same menu also provides information about the DHCP and DNS server, as well as the ARP status.
In the Client menu, there is also the possibility to enter the client locations. Clients do not only include computer systems on the intranet, but also peripheral devices, such as printers controlled by the server via CUPS.
Logging
The lists in the System | Server information menu and in the Event logs submenu are not very colorful; the emphasis is on clarity here. If you have multiple servers on your intranet, you will need to select the lists separately by device.
While the event logs provide information about the possible causes of errors, Server Information provides details of the mounted filesystems and the server utilization by the individual processes. Particularly on lower-performance servers with just a few CPU cores, high workloads can indicate problematic applications (Figure 5).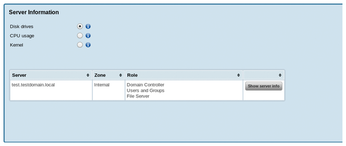 comments powered by

Disqus
---
Support Our Work
Linux Magazine content is made possible with support from readers like you. Please consider contributing when you've found an article to be beneficial.
---