Explore your e-reader options with Foliate
Reader
If you prefer to listening to reading, you can tell Foliate to read aloud to you. For this purpose, the program uses the eSpeak [5], eSpeakNG [6], or Festival [7] speech synthesis tools. All three can usually be installed via the distribution's package manager. I find Festival's voice most pleasant, and the software also supports Spanish, Welsh, Italian, and Finnish.
Foliate automatically detects that the Festival speech synthesis tool is installed on the system. The program then enters the festival --tts command for speech output in the settings without any further action on the user's part. If several text-to-speech engines are available on the computer, you can switch between the various programs in the menu.
eSpeak and its unofficial successor eSpeakNG can also be used. You need to install one of the programs via your distribution's package manager, then restart Foliate, open the Preferences via the Hamburger menu and enter
espeak -vde -s 150
or
espeak-ng -vde -s 1
for eSpeak NG as the Text-to-speech command (Figure 4).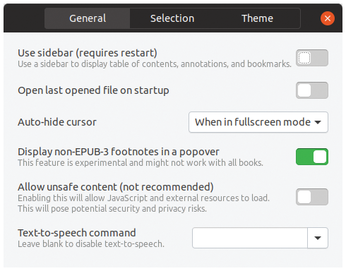 The optional -s 150 parameter reduces the speech rate in both cases to a level that is understandable (at least for my ears). The default value is 175 words per minute, which causes speech output to stumble very quickly from one word to the next, very much affecting the intelligibility of the output for untrained ears.
Click on the headphone button in the bottom right corner of the program window to start the read aloud function. The output starts on the current page of the book. Click the button again to stop playback. There is a difference between eSpeak and Festival. Both eSpeak versions stop the speech output immediately, while Festival continues reading until the next sentence.
The fact that Foliate does not automatically orient itself on the book's language for speech output can make the read aloud function slightly inconvenient at the moment. The developers have already received an improvement suggestion to use the ebook's metadata as a guide; however, until this is implemented, you will have to make the changes to the settings manually.
Conclusions
Foliate integrates perfectly with the Gnome desktop as a GTK3 program. Compared to heavyweights like Calibre, the program lacks a way to synchronize ebooks with a hardware reader – but the Foliate project doesn't want to attempt that just yet. The application aims to make reading ebooks on the PC as pleasant as possible and fully meets this requirement.
Besides English, Foliate is localized for languages like Spanish or Italian. For the functions that are still missing, such as the ability to upload ebooks to ebook readers, there are already suggestions for improvements in the project's bug tracker. Support for PDF files is also already being considered. Due to the very large number of changes in the source code at the moment, there will certainly be some interesting new features in the program soon.
comments powered by

Disqus
Visit Our Shop
Direct Download
Read full article as PDF: