Exploring the i3 tiling window manager with Regolith Linux
Timely Tiling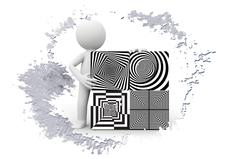 The i3 window manager organizes applications in a flexible grid. Regolith is an Ubuntu-based Linux alternative that makes it easy to explore i3 and window tiling.
Operating a computer is a bit like driving a car. You sit behind the wheel (in front of the keyboard and mouse) and drive off. You know what to do regardless of the car's manufacturer or model. With a computer, users are accustomed to a similar operating experience regardless of the manufacturer or even the operating system. Central elements such as the desktop, windows, folders, and files are largely the same, whether you are working in Linux, macOS, or Windows. This dominant style of user interface is known as the WIMP format (Windows, Icons, Menus, Pointer), and it was originally developed by Xerox Corporation, which had a GUI-based computer operating system as early as 1973 and released the commercially viable Xerox Star in 1981 [1].
Although mouse pointing and window pushing are standard practice around the world, a defiant minority of users seeks to keep mouse interaction to a minimum. Many of these users swear by command-line tools like the Vim editor or Emacs, file managers like Ranger, or text-based mail clients like Mutt. But you don't have to do without a graphical desktop environment. Tiling window managers organize application windows without the need to continually resize them and move them around. You can navigate to applications on the screen by means of intuitive keyboard shortcuts – without reaching for your mouse. Proponents of tiling window managers believe that, with a little practice and dedication, you can work far faster with a tiled desktop than with a conventional desktop environment.
Tiling Options
Window tiling is not a specific product or a tool but is more like a philosophy. Many different operating systems support tiling in a number of ways. Several versions of Microsoft Windows have a built-in option for tiling. Both KDE and Gnome provide a number of different extensions that offer tiling support [2] [3].
[...]
Use Express-Checkout link below to read the full article (PDF).
comments powered by

Disqus
Visit Our Shop
Direct Download
Read full article as PDF: