An easy-to-use media server for your home network
Views
The View menu item lets you modify how the server contents are displayed on the clients. The software provides categories that appear on the clients. The categories can be configured separately for Video, Audio, and Pictures. A selection field is provided to the right of each category, in which you will find the three options Show Category, Show Content Only, and Disable. Any changes you make will affect both external media players and the software's built-in media browser (Figure 3).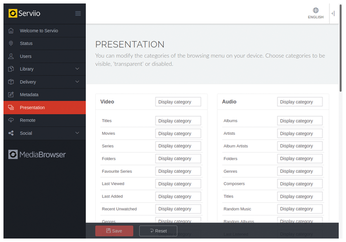 Playback
Once the server is configured, you can access it from any playback-capable device on the LAN. Several DLNA/UPnP-compatible programs are available for Linux. The VLC player, for example, is suitable for retrieving videos from the Serviio server on Linux. Other Linux applications with DLNA support are the Totem Player, which is available on the Gnome desktop, the Rhythmbox audio player, and the eezUPnP multimedia player.
After opening the software, launch the source manager by pressing the keyboard shortcut Ctrl+L. You will now find a list of all available sources in a column on the left. A click on Universal Plug'n'Play opens the search for the Serviio server on the network and shows its shared directories in a tree structure on the right. You can open the tree hierarchy by clicking on the right arrow; select the medium for playback from the desired folder (Figure 4).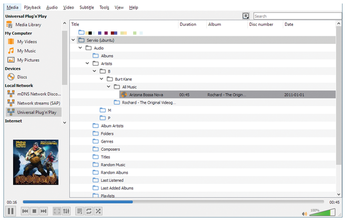 The Stack category on the left side of the configuration menu lets you play longer movies divided into several files as if they were a single file. This feature is especially useful for high-resolution and therefore storage-intensive Blu-ray media.
Media Browser
If your system does not include a media player for DLNA, the Serviio Pro version also lets you playback the stream in a web browser. You can access the media browser via the URL http://<Server IP>>:23424/mediabrowser. Log on to the browser with a user account created on the server.
Afterwards, you'll see a simple interface with three tiles. A click on one of the tiles opens either Pictures, Movies, or Music. Using the tile overview that then appears, you can select the desired content based on various criteria. However, the media browser does require you to share the desired folders with the logged-in user; otherwise, only empty categories appear.
You can open the actual playback window by clicking on the desired file. The server then starts the stream, which can be stopped or paused at any time. Add files to a playlist by clicking on the plus symbol that appears in the file previews; display the files by clicking on Queue at the top right of the main window.
Click on Play All again to play the playlist (Figure 5).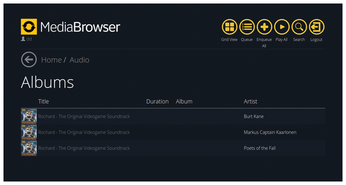 comments powered by

Disqus
Visit Our Shop
Direct Download
Read full article as PDF: