Early Distributions
Doghouse – Yggdrasil and Slackware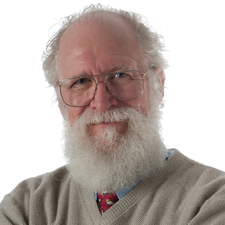 Maddog remembers when his computer first spoke to him – thanks to Yggdrasil – and the (just!) 150 floppy disk images it took to install Slackware.
Tonight, I was talking to Bill Wright, one of the founders of LinuxFest Northwest (LFNW) [1], a great conference held in Bellingham, Washington, every year, and the conversation came around to early Linux stuff.
I told Bill that I am in the process of cleaning out my house in an effort at what older people like me call "downsizing," getting rid of things that we have collected over the years.
I have a lot of stuff that I have accumulated, and one way of reducing the amount is to give away some of these items at FOSSH events like LFNW.
In the course of this, Bill asked me the fateful question of "Do you remember Yggdrasil?"
Of course! Yggdrasil was an early version of GNU/Linux.
I was sitting at my desk at Digital Equipment Corporation (DEC) sometime in November of 1993, and I saw an advertisement in Dr. Dobb's Journal for a "Unix system complete with source code for 99 USD!"
I did not believe this, because I knew that a source code license for Unix was still in the tens of thousands of dollars per machine and that no one could ship the sources for that small an amount of money.
Still, $99 was an affordable amount of money for me at that time, and I decided to buy it even if it was a complete sham, so I sent my money away.
After a week or so the CD arrived accompanied by a thin, spiral-bound book. Unfortunately, I did not have a "PC" to run the code on. I had VAX workstations, MIPS workstations, and even Alpha workstations. Why should I have one of those weak, miserable, crappy Intel PCs?
So I mounted the CD in my drive on my Ultrix MIPS workstation, followed the directory tree down to the man(1) page directory and started reading the man(1) pages. I was impressed.
After I had spent a while looking at the man pages I unmounted the CD and put the package in my filing cabinet.
A couple months later, I facilitated Linus traveling to DECUS in New Orleans, saw Linux for the first time in May of 1994, and convinced Linus to port the code to the DEC Alpha. At the same time, I learned a lot about the state of the GNU/Linux project and some of the players in that market such as a company named "Yggdrasil."
After I returned to my office, I dug the CD out of the filing cabinet and looked closer. I read the manual and hunted down an Intel PC in the DEC Unix group.
The Yggdrasil CD actually used a live filesystem, so you did not have to install it, and when I booted that CD on that (weak, miserable, crappy) Intel PC, not only did it boot, but two graphical windows came up, played some short video segments, and then the computer spoke to me.
Sure, the "voice" was only a .au sound file playing back, but I was hooked! I knew that GNU/Linux was set for greatness.
Unfortunately over time Yggdrasil, like many of the early distributions, faded from sight, but I was then led to another great distribution called Slackware.
By this time, I had purchased my own (weak, miserable, crappy) Intel PC at home and was intensely working with GNU/Linux to understand the system and its limitations, if it had any.
I would dutifully install the Slackware distribution (and of course I wanted all of it) from the approximately 150 1.4MB floppy disk images that made up the distribution.
And of course I was too cheap to buy 150 of those floppy disks and too impatient for AOL to send me those floppies one per month (thank you, AOL!), so I installed about 10 floppies of data and started recording over the first ones with the information from the next disk images.
That worked fine until the installation failed on about the 50th disk.
I cried.
Then I saw an advertisement for another distribution named Red Hat, which installed off a CD-ROM! I ran into the night and bought a CD-ROM reader that attached to a sound card (as most CD-readers did in that day) and waited for the Red Hat distribution to show up in my postal mailbox.
In those days, getting GNU/Linux on the disk and able to boot did not solve all problems. On systems with an ISA bus, you had to type in all the device information about your graphics and networking cards and a lot of other devices. Most of the time, you got this from the previous operating system that ran on your computer, but it was never as easy as it is today.
As difficult as the installation was, it was still better than running that "previous operating system."
comments powered by

Disqus
---
Support Our Work
Linux Magazine content is made possible with support from readers like you. Please consider contributing when you've found an article to be beneficial.
---