FOSSPicks
vokoscreenNG
The mighty OBS Studio is the master of live desktop and game streaming, having become a huge part of the culture driving screencast popularity on YouTube. But that shouldn't stop alternatives from being developed, especially for those of us who don't have the ambition of becoming super-influencers. SimpleScreenRecorder is a great choice for situations where you don't need a huge application to make a simple recording. So too is vokoscreenNG, especially if you need a little more control. VokoscreenNG uses Qt and GStreamer and looks very much like a standard Qt or KDE desktop application, but it actually hides an impressive number of features for such a young project.
One of its best features is apparent from the start, and that's the elastic-edged window you use to select which part of the screen you want to capture. This is clear and accurate, and ideal for only grabbing a section of your display. You can also capture either a single window or the entire screen, with or without magnification, and with a set duration if you want to limit recording time. There's even a movie-themed countdown to help ease you into the recording. Another brilliant feature is the built-in webcam viewer. This opens a window showing the view from an embedded or connected camera so that you can manually move it into the capture area to show some live input. It's not the multi-input you get on OBS, but it's quick and easy to use. Frame rate is dependent on your hardware, but can theoretically go right up to 144fps. x264 and the MKV container are the default codec and container formats for whatever resolution you choose. Despite the application being in the early stages of (re)development, it already works well and can feel like an integrated part of your desktop – which can't be said for the sometimes overwhelming OBS.
Project Website
https://github.com/vkohaupt/vokoscreenNG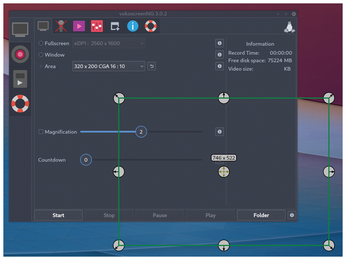 Music tracker
ft2-clone
There's more to the amazing popularity of retro computing than pure nostalgia. While it's certainly fun to revisit your misspent youth playing old 8- and 16-bit games, there's another reason why many of those old genres live on. The limitations in that old hardware meant game developers had to be more imaginative, whether it was color palette hacks, implementing music like code, or repeating tiles in the gameplay mechanic. Many of those techniques have survived the limitations that created them, simply because they made games more enjoyable. The same can also be said for certain types of old applications, and in particular, old applications that created music like code.
The most infamous of these was Ultimate Soundtracker on the Commodore Amiga. It allowed a composer to create four-channel music by entering note data into a kind of scrolling spreadsheet. Each row would represent important parameters such as note, instrument, amplitude, and effect. This data could often be used directly within a game and stored alongside all other game data. The repetitive and algorithmic nature of working like this created a very distinctive sound that you can still hear today, not just in retro gaming titles, but in wider electronic music, IDM, and dance genres. Soundtracker begat ProTracker on the Amiga, and then FastTracker on the quickly dominating PC in the early '90s. Fasttracker II clone (ft2-clone) is a highly accurate recreation of this specific tracker, without needing you to worry about IRQ assignments or DMA access. It comes complete with chunky DOS graphics, pumping visualizers, and an awesome low-fi sound. It will load most of the thousands of XM and MOD music files you can find and let you create music like it's 1999.
Project Website
https://github.com/8bitbubsy/ft2-clone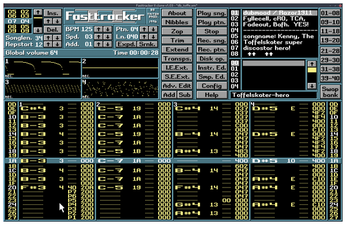 comments powered by

Disqus
---
Support Our Work
Linux Magazine content is made possible with support from readers like you. Please consider contributing when you've found an article to be beneficial.
---