Formatting JSON for readability
Charly's Column – JSON
Armed with just json.tool and jq, Charly preps the JSON data delivered by his Philips Hue bridge so that even humans can read it – an essential step towards improving the usability of his home automation system.
Some time ago [1], I briefly talked about how I use the measured values from a lux sensor to control a Hue lighting system. In redecorating my hallway, I added some new lights and removed others. I couldn't remember the light sources' IDs, so I asked the Hue bridge to dump the configuration. What I got was hard-core JSON, but unfortunately not in a human-readable format (Figure 1).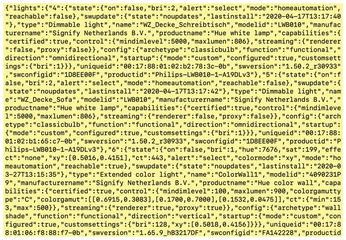 There are plenty of tools to make JSON readable. I started with what I already had in place, json.tool, which the Python installation had dumped on my hard disk. I wrote its neatly formatted output to a file in /tmp for further processing (Listing 1).
$ curl --request GET 10.0.0.10/api/w25-4kqL7d|python -m json.tool > /tmp/hue.all
01 #! /bin/bash
02 WDIR=/usr/local/shellscripts/lux
03 TMPDIR=/tmp
04 HUEBRIDGE=10.0.0.10
05 USER=w25-4kqL7d
06
07 for i in $(seq 1 20); do
08   echo "trying light $i";
09   LAMPTEST=$(jq -r -M ".lights.\"$i\".name" /$TMPDIR/hue.all);
10   if [ "$LAMPTEST" != "null" ]; then
11     echo "Light $i exists: $LAMPTEST"
12   fi
13 done
However, I didn't need the data in Python; I wanted to use the output in a small Bash script. This prompted me to continue processing with jq [2]. The tool claims to be a kind of sed, awk, and grep for JSON. I wanted to find out the current IDs for my light sources, as well as discover their plain text names. Thanks to jq, a tiny script (Listing 2) is all it takes to do this. When I ran it, it gave me the output shown in Listing 3.
Light 4 exists: LR_ceiling_desk
Light 5 exists: LR_ceiling_sofa
Light 6 exists: ColorWall1
Light 7 exists: Hall_1F
Light 8 exists: Hall_2F
Light 9 exists: Hall_3F
Light 10 exists: LRTinkeringCorner
The reason why IDs 1 to 3 do not exist is because I dismantled the lights and removed them from the Hue app. The Hue bridge has no reason to re-sort the remaining IDs – which is fortunate, because that would cause total chaos every time I changed a lamp. As jq once again underlines: The shorter a tool's name is; the more important and powerful it is. Lights on!
comments powered by

Disqus
---
Support Our Work
Linux Magazine content is made possible with support from readers like you. Please consider contributing when you've found an article to be beneficial.
---