On the DVD
On the DVD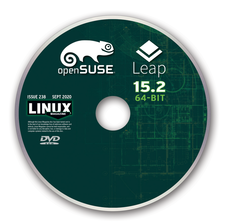 openSUSE 15.2 and Bodhi Linux 5.1
OpenSUSE is one of the most popular Linux distributions. It is available in two versions: Leap, the stable version intended for average users and system administrators, and Tumbleweed, a rolling release for experimenters and those who want the very latest in hardware. Leap shares a common codebase with the commercial SUSE Linux Enterprise distribution, while Tumbleweed is developed in Factory, openSUSE's main development codebase, before release to help assure relative stability. All these projects are closely associated with each other.
In the past, the SUSE family of distributions was known for its contributions to KDE. Today, it is perhaps better known for its support of the Wayland graphics manager in the Gnome desktop environment. It also is known for a variety of unique tools, including the YaST Control Center, as well as AutoYaST, which provides automatic installations, and WebYaST, a browser interface. The SUSE family is also known for the ZYpp package manager and for the use of delta RPMs, which contain only the differences between old and new packages of the same name, a feature that speeds software installation. In addition, the SUSE family has developed its Build Services for packaging applications. It has experimented with automatic testing to improve software quality, as well as with the use of Flatpaks in one release variant. Although in many ways a mainstream distribution, openSUSE is at the forefront of innovation among distributions.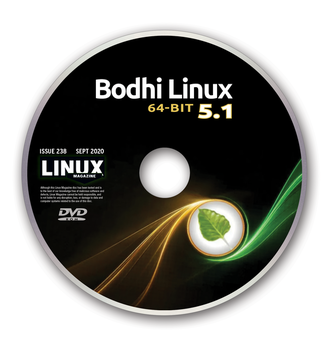 Bodhi Linux is a lesser known distribution with a cult following that deserves greater recognition. It is best known for its Moksha desktop, which is based on the Enlightenment window manager. Moksha provides a fast, lightweight desktop while offering a broad range of customizations and utilities ideal for systems with limited hardware. Unlike many current distributions, Bodhi also continues to release a 32-bit version, making it an ideal choice for keeping older systems alive. In addition, Bodhi supports AppImages, an early form of universal packages similar to Flatpak and Snap.
Bodhi 5.1 is the first release in almost two years, due partly to a change in project management and members. Former users will find the latest release lives up to its predecessors. A few apps have changed – for instance, the ePad text editor has been replaced by Leafpad, while a Bodhi-branded version of Gnome Web replaces the Midori web browser. Because part of Bodhi's philosophy is to preinstall a minimum of packages, these changes have a minimal effect. The dock options are especially extensive and, along with the wide array of themes, allow Bodhi to resemble other operating systems or a desktop based on your personal preferences.
A side benefit of Bodhi is that it is based on a Long Term Support release of Ubuntu. If Bodhi's own documentation does not help you with technical matters, Ubuntu's support forum and online help may.
comments powered by

Disqus
---
Support Our Work
Linux Magazine content is made possible with support from readers like you. Please consider contributing when you've found an article to be beneficial.
---