FOSSPicks
NeoChat
Recent months have seen huge demand for alternative messaging platforms. From Mozilla switching to Matrix, to Facebook's WhatsApp privacy settings update pushing users to Telegram and Signal. It's the perfect time for open source platforms to capitalize on renewed interest in decentralized messaging and to help solve the biggest problem they've always had – the chicken and egg problem of adoption. But this lack of adoption isn't always because people don't know the alternatives exist. It can also be because the alternatives don't look too good. Signal is a great example because, while it's undoubtedly one of the best open source messaging solutions, switching to it is a tough ask for the typical WhatsApp user used to seamless device and media integration. Matrix is another platform that can be hard to get your head around without a beautiful, clean client to make it worth the effort. But NeoChat might finally make the effort worthwhile.
NeoChat is a messaging client designed specifically to access the federated Matrix messaging network, and the best thing about it is its elegant interface. After logging in with your Matrix account, you soon forget you're accessing a disparate conglomerate of servers and contacts, because the experience feels just as good as some proprietary services. You can search for groups/rooms you find interesting, thread conversations, and upload media. There's even an integrated image editor for making small changes before you share a file, and room management functions help you remove problematic users from your own groups. The whole application is encased within a scalable UI that will stretch to include three columns on a wide screen, including a sidebar showing group members, and diminish to a single column chat view on narrow screens. Remarkably, this even includes smartphones if you're lucky enough to have one running Plasma Mobile.
Project Website
https://github.com/KDE/neochat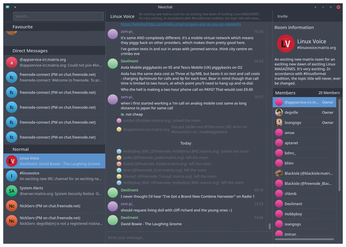 RSS reader
QuiteRSS
With lots of people currently considering the kind of digital footprint they're leaving on the Internet and what kind of services they're happy to share their personal data with, there's never been a better time to reinvestigate RSS. RSS is an ancient technology: A simple XML file that updates when new posts are made to a website or podcast. Timestamps enable clients to scan for changes whenever they choose, and brief snippets of whatever a post is about allow users to decide whether or not to visit or listen based on an update. There are no cookies and few ways for marketing agencies to subvert the one-way protocol to retrieve unsolicited amounts of data. All the user needs is a client. However, because RSS has become increasingly rare on the web, such clients are becoming rare. Which is why QuiteRSS is such a pleasant surprise.
The "quite" in QuiteRSS represents the idea that the application is "quite fast." And it is, thanks to a cut down Qt-based UI and sparse design. It's an application that can feel a little out of date, but it's still being maintained and has some unique features that make it a great choice for beginners to the format. It will automatically paste a compatible RSS URL into the new subscription requester, for instance, and there's a huge amount of control over which stories you want to see and how they're displayed. Right click a feed and choose Properties, for instance, and you can set specific data limits for data retrieval, whether a feed gets its own tab, which columns are shown, and what icon to use. This allows you to use the same application for a huge variety of sources, relying on the category filters and tabs to automatically make best sense of whatever glut of information you're subscribed to.
Project Website
https://github.com/QuiteRSS/quiterss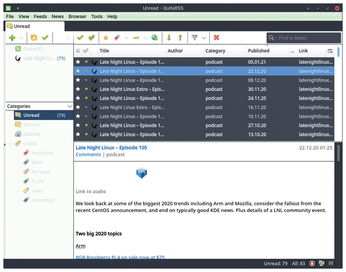 comments powered by

Disqus
---
Support Our Work
Linux Magazine content is made possible with support from readers like you. Please consider contributing when you've found an article to be beneficial.
---