A new fork of RawTherapee offers tools for photo editing
Putting It Together
RAW converters are the first tool to use in editing photos, and new solutions and programs have the potential to make users' lives easier. How does ART stack up?
ART, which stands for Another RawTherapee, is a RAW converter for photo editing. This young project combines some tools and concepts found in two well-established programs, RawTherapee and darktable, and attempts to offer additional functions, while also providing a user friendly, streamlined program. This article takes a look at the current state of this project and how it's progressing toward those goals.
A Surprising Fork
Three major RAW converters are available for Linux so far. Darktable is the most comprehensive and complex of these programs. RawTherapee is a bit smaller, but scores points with users for its "good-natured" behavior and ease of handling. A third option that appeals to many users is LightZone, a Java application that was formerly proprietary but is now open source.
Darktable offers new releases at short, regular intervals that often extend or completely replace its current collection of 60 or more tools, but RawTherapee's development is proceeding at a slower pace. To date, it includes a number of excellent exposure tools, but it still may not have all the features you're looking for. For example, RawTherapee has nothing like a cloning or stamping tool, which even the far older LightZone has. Similarly, darktable has offered masks for years, but RawTherapee has not. They are, however, under development.
With that in mind, it may be surprising at first that RawTherapee is the basis for a fork, ART. However, if you look at what the ART developer, Alberto Griggio, is doing, the reason for choosing RawTherapee as a foundation quickly becomes apparent: The developer is rebuilding or extending the existing tools (Figure 1).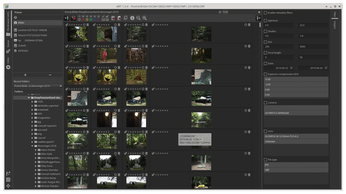 For example, additional controls for the exposure tool settings allow for more fine-tuning. In addition, ART adopts some other helpful tools, such as automatic perspective correction from darktable, and also adds some brand new tools, such as Texture Boost. Although ART v1.5.4 (the latest version at the time of writing) so far only offers a relatively small collection of functional tools, the toolbox already seems to be abundantly filled (see Table 1).
Tool

Function

Exposure

Exposure

Preliminary exposure settings

Tone Equalizer

Fine exposure settings

Tone Curves

Gradation curves

Dynamic Range Compression

Dynamic compression

Log Tone Mapping

Filmic-style exposure

Details

Spot Removal

Cloning/healing tool

Sharpening

Image sharpening methods

Noise Reduction

Noise reduction

Impulse Noise Reduction

Noise reduction

Defringe

Remove color fringes

Color

White Balance

White balance

Saturation & Vibrance

Saturation

Channel Mixer

Channel mixer

Color Equalizer

Color adjustments

RGB Curves

RGB curves

L*a*b* Adjustment

L*A*B* adjustments

Color Management

Color profiles

Local Editing (new group)

Color Correction

Local color adjustments

Smoothing

Local blur

Local Contrast

Local contrast

Texture Boost

Boost textures

Special Effects (new group)

Black-and-White

Monochrome effects

Film Simulation

Simulate film exposure

Soft Light

"Soft light" (layer mode)

Vignette Filter

Edge shading

Graduated Filter

Gray graduated filter

Haze Removal

Remove haze

Film Grain

Simulate film grain

Simulate Film Negative

Simulate film negative

Transform

Crop

Crop

Resize

Scale

Post-Resize Sharpening

Sharpen after scaling

Lens/Geometry

Lens and perspective correction

@TZTH:RAW

Sensor with Bayer Matrix

De-mosaicing tool

Raw Gain/White Point

Set black and white point (RAW)

Preprocessing

Filter hot/dead pixels

Dark Frame

Use dark-frame subtraction

Apply Flat Field

Correct effects caused by the lens-camera combination

Metadata

Exif

View and edit Exif data and maker notes

IPTC

View and edit IPTC data
Documentation and Interface
Unfortunately, the ART documentation [1] can be confusing. In some cases, there are references to other sources – tools inherited from RawTherapee are documented by RawPedia [2]. Pixls.us [3] is currently the best place to find more information. In some places you will find detailed tooltips within the program (Figure 2).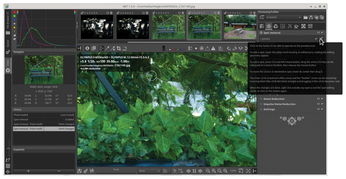 The file manager mode behaves almost identically to RawTherapee when selecting images. On the left, you select the directories; on the right, you filter their content via Filter or load single images via Inspect.
ART supports several very practical approaches to displaying thumbnails (Figure 3). In addition to the embedded image, which sometimes turns out far too dark, you can quickly create preview images with a linear, film-like exposure. This goes well beyond what RawTherapee 5.8 provides and is a massive help when searching for images. Two other variants of the preview (with and without focus points) are only found in the editor mode in typical RawTherapee style and not also in the file manager, as is the case in darktable.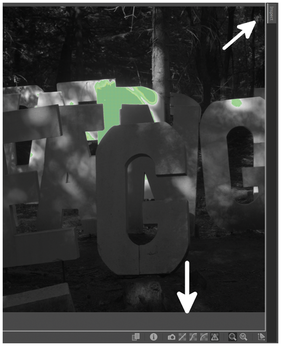 The compatibility between ART and RawTherapee is good so far. Although ART uses its own sidecar files with the .arp extension, instead of RawTherapee's .pp3, they can be imported reciprocally. The respective program then ignores the tags for which it does not provide tools but takes all others into account.
Exposure Tools
RawTherapee's basic exposure tool is named Exposure and is rightly considered to be a good tool that is easy to use. Its extensive functions come with a correspondingly large number of controls, but these become intuitive quite quickly. Despite this, the ART developer decided to split the tool into three components, which then appear as independent tools in the Exposure section (Figure 4).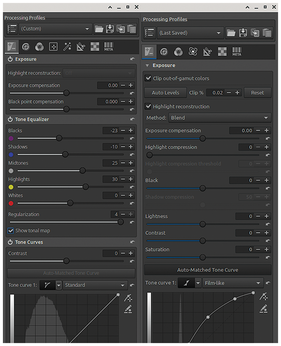 For many users, splitting the tool up probably does offer some advantages, since three steps can now be performed separately. However, some features were lost in the process. For example, ART lacks Highlight compression, which can give you good results when the sky is burned out. ART adopted the other settings, Highlight reconstruction and Exposure compensation (equivalent to white point), and they work like they do in RawTherapee. The fact that the controls for brightness, contrast, and saturation are missing will probably only bother a small number of users.
In the Tone Equalizer section, ART even provides more settings than RawTherapee. With five sliders, different tonal values can be adjusted to the photographer's liking fairly quickly. The five tonal ranges mark different colors that are reflected in the tonal map (Figure 5). The tool displays them if you check the box next to Show tonal map.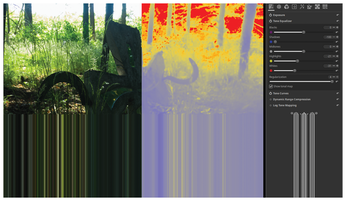 The third section, Tone Curves, now contains a dedicated saturation control in addition to the two tone curves. This is important because the saturation subjectively increases as the brightness decreases.
RawTherapee's dual tone curves also exist in ART: the first is often used to adjust luminance via the Luminance, Weighted Standard, or Saturation and Overlay modes. The second is used to control the saturation (mode Filmic, Perceptive, or Colorful) as well as for fine control of the contrasts. Another option is to roughly set the exposure compensation with Tone curve 1 and fine-tune it with Tone curve 2.
Be that as it may, exposure is always implicitly linked to saturation – dark colors appear to be more saturated. To influence this, the developer added a darktable-style saturation equalizer to the software. Like in a histogram, the dark tonal values are on the left and the light ones on the right. You can use the curve to reduce or increase the saturation of the colors (Figure 6).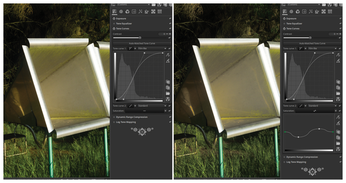 In many places, ART's practice-oriented development is evident. For example, the Tone Curves tool starts with the special Auto-Matched Tone Curve option, which presets tonal values based on the embedded preview images (i.e., it takes into account the camera manufacturer's specifications).
In RawTherapee, you have to manually load the profile of the latest image you processed each time. This step is eliminated with ART, which makes editing many images taken under similar conditions immensely faster and easier. The tools keep the settings, once made; you may have to deactivate them manually. All ART tools share this behavior.
ART lacks the practical Shadows/Highlights tool from RawTherapee. It supports fast and effective correction at the histogram edges, which can also be done with the other tools, just often not as easily. More of an issue is the fact that the Tone value correction tool is missing; it handles local tone mapping and is practically irreplaceable by other tools.
To make up for this, there is an additional tool named Log Tone Mapping. It is a stripped-down variant of darktable's Filmic module, but without its S-shaped tone curve and limited to luminance corrections [4].
comments powered by

Disqus
---
Support Our Work
Linux Magazine content is made possible with support from readers like you. Please consider contributing when you've found an article to be beneficial.
---