Designing for newcomers
Distro Walk – Zorin OS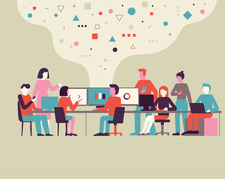 Artyom and Kyrill Zorin set out to design a user-friendly operating system, resulting in Zorin OS, a favorite among new users. Bruce talks to Artyom about Zorin OS and where the project is headed.
First released in 2009 by brothers Artyom and Kyrill Zorin, Zorin OS [1] quickly became known as a Debian-derivative with a minimalist desktop interface based on Gnome. Today, Zorin continues to tweak its desktop, but has also become known for its appeal to new users – particularly for its Zorin Appearance app, which in some editions emulates the design of other operating systems, including Windows 10 in Zorin 16 [2]. In addition, Zorin 16 also supports a wide variety of installation methods, ranging from apt and Wine to Snap and Flatpak.
In a break from this column's normal format, I interviewed Artyom to find out more about Zorin OS, including its past, present, and future.
Linux Magazine (LM) : How did you and Kyrill get involved with free software?
Artyom Zorin (AZ) : I first came across Linux and free and open source software back in the summer of 2008, when my brother Kyrill and I stumbled upon videos of Ubuntu. We found the concept of an operating system other than Windows and macOS intriguing, so we decided to give it a try. Immediately, we were amazed at how much faster and more customizable it was, not to mention the security and privacy advantages. We knew that Linux was much better than Windows and macOS in a lot of ways. But after showing it to our father, it became clear as to why it didn't have the level of popularity that the incumbents had: It just wasn't user-friendly enough.
We noticed that there wasn't a strong enough focus on design simplicity in the Linux world. The unfamiliar user interfaces that most distros came with presented roadblocks to regular computer users like my father when trying to make the switch away from Windows. We saw this as the biggest challenge preventing Linux from gaining a wider user base.
Back then, I was 12 years old and my brother was 14, so we had no experience and education in computer science or programming. However, we knew about a national school science fair here in Ireland and thought it would be interesting to enter with a project to try and solve this problem with Linux and learn how to do it along the way. That project was Zorin OS.
LM : How is the Zorin project organized? How do the company and community interact?
AZ : We're always rethinking how we organize ourselves as a company and as an open source project so we can deliver a greater product and better execute our mission.
We see the current incarnation of "Zorin, the organization" as a mix between a traditional community-focused open source project and a business. Over the years, we've learned that there are pros and cons to both approaches, and, as a project that's trying to do something different in the Linux world, we need to innovate how we run ourselves.
In practical terms, this means that we pay very close attention to our users' feedback. We've made it a policy for everyone on our development team to help users and Zorin OS Ultimate customers with their technical support queries. That helps us to find what new features users are looking for, what's missing in Zorin OS, and how we can improve the system further. However, we accept the fact that we can't implement every idea and suggestion from every user and can't cater to every kind of user out there. Every decision we make is first and foremost guided by our mission: to bring the power of Linux to newcomers by making the entire experience easier and more accessible. If a new feature suggestion or product change doesn't serve this mission, it generally doesn't make it past the drawing board.
Like other open source projects, we receive contributions from other members of the community, both indirectly and as direct code commits to our sub-projects. The inverse is also true, in that we make patches to existing third-party software in order to improve Zorin OS's user experience and submit many of them upstream so the entire Linux ecosystem benefits.
LM : What is Zorin's design philosophy, and which features reflect it?
AZ : From the very beginning, our main goal was to make Zorin OS as easy and frictionless as possible. If you normally use Windows, you should be able to move to Zorin OS without having to learn anything new. The start menu and taskbar are right where you remember them. We've also made it possible to change the desktop layout with a click using Zorin Appearance, so if you're used to macOS or another operating system you can feel right at home. Of course, you still have all the power of an Ubuntu-based Linux distribution under the hood.
We also pay close attention to crafting a beautiful visual design language. That way, new users aren't only attracted to Zorin OS and Linux because of the technical and practical advantages, but also because they want to use a system that's visually pleasing and inviting.
Rather than trying to load as many features and tweaks as we can, we think carefully about whether a new feature is intuitive and fits into our larger cohesive vision of the desktop. Our thought process always starts with defining the user experience we want to provide and then we work our way back to the technology.
LM : Tell us about the Zorin Appearance option (Figure 1) for emulating other OSs.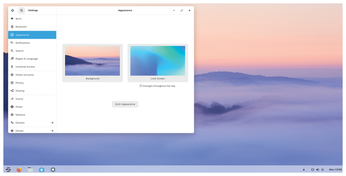 AZ : The configurable desktop layout in Zorin Appearance is one of the main features that helps make Zorin OS so friendly to new users. It lets you select one of the preset layouts, and the desktop rearranges itself to resemble that interface with one click.
From the early days of Zorin OS, we've heard from countless users that this was what has helped them to get comfortable with using Linux. The ability to simply choose the interface you're most familiar with helps you keep your muscle memory and makes you feel more at home in the new Linux environment. This goes beyond being just another customization option, it helps the operating system to adapt to you and not the other way around.
By default, Zorin OS's desktop layout is similar to that of Windows – which most computer users out there are familiar with. You can use Zorin Appearance's desktop layout feature to make it look and feel like macOS, Windows XP, Ubuntu, Gnome Shell, or a touch layout that works great on computers with touchscreens.
One of the new improvements in Zorin OS 16 is the introduction of a Windows 10X-like desktop layout option. It has a modern and streamlined UI that adapts well to computers with touchpads, mice, or touchscreens. I've personally been using this layout as my daily desktop for the past few months, and I love how clean and elegant it looks. Its simplicity makes me feel like the interface gets out of the way, so I can focus on what I'm working on better.
LM : Does Zorin OS offer any special support for WINE and PlayOnLinux?
AZ : We've made it super simple to get Windows apps running in Zorin OS compared to most other Linux distros. Simply double-click on an .exe installer, and you'll get guided through installing Wine and PlayOnLinux in a couple of clicks. We think it's the best way to let anyone easily run their Windows apps while also keeping the operating system safe and secure out of the box.
Zorin OS also has a built-in database of Windows installer files for apps that are already natively available on Linux. If the system detects that the .exe you double-clicked on is for a known app in this database, it will automatically suggest you to install the recommended native package in the Software store.
Some Windows apps and games have even been packaged up in containerized Snap and Flatpak packages, preconfigured with Wine as a runtime. Because Zorin OS 16 now comes with both the Flathub and Snap stores preloaded, all you need to do is search for the app – like Notepad++ or TrackMania, for example – in the Zorin OS Software store to install it. You don't even need to know anything about Wine or PlayOnLinux – it just works like a native app.
LM : How many users does Zorin OS have?
AZ : Since the release of Zorin OS 15 – our latest major version – in June 2019, it's been downloaded over 2.5 million times around the world. Over 67 percent of these downloads came from Windows and macOS, reflecting [the success of] our mission to bring the power of Linux to people who've never had access to it before.
LM : What are your future plans for Zorin OS?
AZ : We've heard many success stories from businesses, schools, governments, and other organizations that made the switch from Windows to Zorin OS. However, the one downside that kept popping up in these cases was that deploying the operating system and managing computers was initially challenging and time-consuming. As we looked around to see if there were any tools to help these users, we found that there weren't any that were sufficiently simple and suited for Linux desktop workstations. It became clear to us that the difficulty in managing and maintaining a Windows-to-Linux desktop migration was one of the strongest reasons why more organizations weren't moving to Linux.
To remedy this, we are planning to launch a new remote management tool later this year called Zorin Grid. Its goal is to make it possible to manage a fleet of tens, hundreds, or even thousands of workstations as easily as one, with little to no training. We've taken the lessons we've learned from the businesses and organizations we've heard from and are designing Zorin Grid to address the roadblocks they experienced in order to make the transition as seamless and effortless as possible. Over the long term, we're planning to make Zorin Grid work with many other Linux distributions – not only Zorin OS – to make the entire Linux ecosystem more viable for use in the workplace.
We believe that this could be the missing piece in the puzzle that could allow lots of businesses, schools, and organizations to make the leap to Linux, and avail of all the practical, security, and cost-related advantages it has.
Another exciting thing on our roadmap is our plan to port Zorin OS 16 to ARM-based devices like the Raspberry Pi. One major goal that's motivating us to focus on ARM devices – and especially ultra-low-cost ones like the RPi4 – is to make computers accessible and useful in the developing world. So far, the Raspberry Pi (and the Linux distributions made for it) have generally been aimed at computer tinkerers and beginner programmers, and it has become a tremendous platform for these use cases. By porting Zorin OS Lite and Education Lite to the Raspberry Pi 4 and 400, we're aiming to make it into a great general-purpose computing platform and educational resource for people who've never had access to a computer before.
Zorin Core is available as a free download. Three commercial versions are also available: Zorin Ultimate, Lite, and Education.
comments powered by

Disqus
---
Support Our Work
Linux Magazine content is made possible with support from readers like you. Please consider contributing when you've found an article to be beneficial.
---