Safer Internet Searches
Alternative Engines
If you are interested in data privacy, you might want to try an alternative search engine. We discuss a few search engines that serve up good results, along with an option for setting up your own search engine.
A majority of users rely on Google to find information on the Internet. Although convenient, Google can expose your personal information. Your searches result in companies tracking your online activities and then bombarding you with targeted advertising.
The privacy concerns alone might make you want to consider an alternative search engine, but there are other reasons you might consider another option. What if you want to include a search service on your personal network or website? By integrating an alternative search engine into your network or website, you can make it easier for people to find your information, while maintaining your independence from the big search giants like Google.
Luckily, there are several alternative search engines that give excellent results regardless of your motivation.
Tracking
When it come to privacy concerns, you probably want to know how you are being tracked. Beyond knowing what data is being collected, you might also want to know how much data a company saves, how long they hold onto it, and how they use that data.
If you use Google, you can find the answers to these questions by checking your preferences. Keep in mind that many of these values are set by default, meaning you might not have selected these preferences in the first place. To find out your preferences, use Google Takeout to download your preferences and then delete all your data. Google Takeout runs in the background and sends you an email when it is done.
Google also tracks you with its vast array of third-party cookies. These cookies are so unpopular that Google plans to retire them and replace them with a group profiling scheme. You can mitigate the privacy effects of these cookies by using ad blockers.
In Firefox, the privacy settings are stricter; you also can enhance Firefox with ad blockers. The Brave browser, on the other hand, blocks ads by default. Brave also lets you connect an account to your browser and get paid for advertising using Brave's own crypto currency (Basic Attention Tokens) without revealing your identity to advertisers.
Keep in mind that you can expose your IP address other ways beyond using a search engine.
To avoid tracking, your best option is to choose a search engine that doesn't track. Following are few alternatives that protect your privacy and yield good results.
DuckDuckGo
DuckDuckGo [1], the most well-known alternative search engine, does not track you (Figure 1). For instance, if you use DuckDuckGo's map function, DuckDuckGo will not even collect your position unless you activate it yourself. (Google, on the other hand, collects everything you do and can use it on all of their services.) DuckDuckGo does not even store your personal data.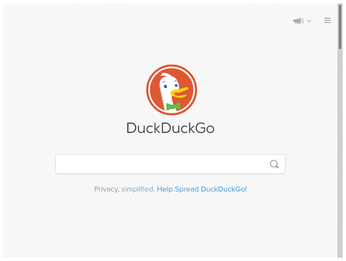 In addition, DuckDuckGo offer tools to help protect your privacy. For example, a Firefox extension tells you who is tracking you and how much. The extension will tell you all the details it can find about any website you visit, as well as which websites are the worst offenders.
Qwant
Qwant [2], based in France, does their own web indexing and uses their own algorithms, creating an independent search engine (Figure 2). Working with regulators in the European Union, as well as the US, Qwant wants to help balance the competition in the search engine field.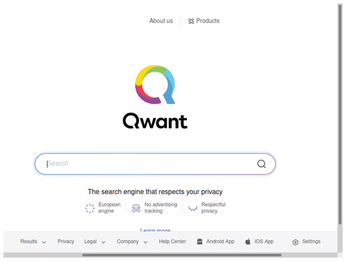 Qwant offers products similar to those offered by Google. While Qwant does have advertisers, they don't track your every move. Features include news, images, videos, and maps (map results are sourced by Bing).
comments powered by

Disqus
---
Support Our Work
Linux Magazine content is made possible with support from readers like you. Please consider contributing when you've found an article to be beneficial.
---