A new slim-line laptop
The Next Generation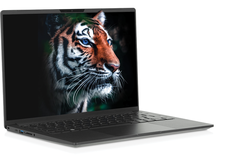 We test a new entrant in the world of slim and lightweight Linux-powered laptops.
Back in November 2020 [1], Linux Magazine tested the InfinityBook S 14 v5 from Tuxedo, a German laptop vendor that has been in the Linux business for more than 15 years. Despite a couple of minor gripes with the trackpad and power management, we were largely happy with the machine: It was light, slim, and had excellent battery life (14 hours on medium brightness, playing videos).
Now Tuxedo has a new laptop on offer, the InfinityBook Pro 14 Gen6 [2]. Tuxedo advertises the InfinityBook Pro as an "ultra portable business notebook," with particular marketing efforts focused on its display, magnesium-alloy chassis, and glass touchpad. The laptop is available in various configurations starting at EUR1160 (~$1,360), although the base price does not include a WiFi card. Our review unit checked in at EUR1349 (~$1,582), featuring the screen, chip, RAM, and storage specifications shown in Table 1.
| | |
| --- | --- |
| CPU | Intel Core i5-1135G7 (quad-core @ 2.4 GHz) |
| Graphics | Intel Iris Xe Graphics G7 (80EUs) |
| RAM | 16GB 3200MHz CL22 Samsung |
| Screen | 14" Omnia Display (3K, 16:10, 90Hz) |
| Webcam | 1.0 megapixel |
| Storage | 500GB Samsung 980 SSD (NVMe PCIe 3.0) |
| Networking | Intel WiFi 6 AX200 and Bluetooth 5.1 |
| Ports | 2x USB-A 3.2 Gen1, 1x USB-C 3.2 Gen2, 1x Thunderbolt 4 (PCIe Gen3 4 Lanes)/USB-C (DisplayPort 1.4a), 1x HDMI 2.0, 1x SD card reader, 1x combined headphone + microphone jack, 1x Kensington lock |
| Size | 31x21.2x1.5-1.9 cm |
| Weight | 1.05kg (2.31 lbs) |
| Price | EUR1349 (~$1,582) |
Inside the box, you'll find the laptop along with a USB-C to RJ45 (Ethernet) adaptor, a WebFAI USB stick to restore the operating system (see "The Software Side" box), the power adaptor, and a tiny packet of Intel stickers (thankfully not glued onto the laptop by default). There's also a 40-page user guide and even a Tuxedo-branded paper notepad and pen as well.
Tuxedo offers a few operating system options, available when ordering and configuring the machine. The default choice is TUXEDO_OS (which is essentially Ubuntu with the Budgie desktop and some other customizations), but Ubuntu and Kubuntu are also options. You can also order the laptop with no Linux distribution preinstalled. After setting up the distro of your choice, you then need to download and run tuxedo.sh to get some laptop-specific extras and settings.
Another option during the ordering process is complete drive encryption, as well as the possibility to have Windows preinstalled inside a VirtualBox virtual machine (VM) for EUR99 (~$116, Home Edition) or EUR159 (~$186, Pro Edition). In addition, you can disable various features (or hinderances, as some might see them) at the BIOS level, such as the Intel Management Engine and webcam.
Our review unit shipped with Kubuntu 20.04, which largely ran very smoothly without the annoying power management glitches we experienced when testing the InfinityBook S (such as a flashing screen on suspend and resume). The keyboard backlight setting still isn't stored between closing and opening the lid, though – a minor annoyance.
Tuxedo laptops come standard with an EU two-year warranty, which can be extended at extra cost to three years for EUR149 (~$175), four years for EUR249 (~$292), and five years for EUR349 (~$409).
Design, Dimensions, and Ports
We were impressed by the InfinityBook S 14's weight and size, but the InfinityBook Pro goes even further: It's slightly reduced in every dimension (1.5cm deep at its thinnest point) and weighs just a smidgen over 1kg (2.3 lb). This reduction in weight comes with a compromise, though, with the keyboard and screen exhibiting slightly more flex when pressed hard compared to the earlier model. We didn't see this as a big problem, though; the overall build quality is solid and way better than the cheap plastic laptops you find at PC stores.
One interesting customization option is the image on the back of the display. By default, the image is a low-profile dark Tuxedo logo, but you can customize it to your liking for an extra EUR59 (~$69) when placing the order (Figure 1).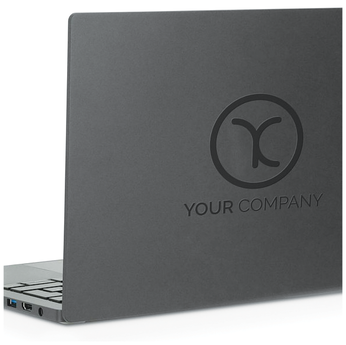 On the left-hand side of the laptop, you will find a Kensington lock, USB-C port, USB-A port, SD card reader, and combined headphone/microphone jack, and the right-hand side houses the power jack, HDMI, another USB-A port, and a Thunderbolt 3 port. We're happy to see a decent selection of ports on a slim-line model, obviating the need for a bag of dongles in most use cases.
Seven cross-head screws keep the underside cover in place – removing these screws provides access to the replaceable RAM, storage (SSD), and WiFi card (Figure 2).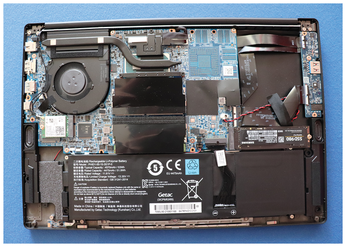 Screen, Keyboard, and Trackpad
You have two display choices available when configuring the machine: a 2K IPS non-glare 60Hz screen at 1920x1200p with 350 cd/m2 brightness and 1500:1 contrast, and a 3K Omnia Display non-glare 90Hz at 2880x1800p with 400 cd/m2 (and the same contrast) for an extra EUR100 (~$117). We went with the latter for our review unit, and it's a superb screen with excellent viewing angles and only a very thin bezel wrapped around it (Figure 3). Side-by-side with a MacBook Air from late 2020, the InfinityBook Pro is slightly dimmer at the max setting but more than good enough for working outside.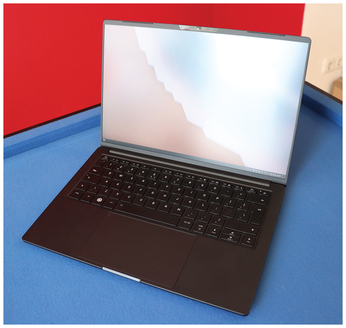 Above the screen is a basic webcam that the lsusb command identifies as a Chicony Electronics Ltd HD. We found the webcam to be quite poor with lots of graininess even under adequate lighting conditions. While acceptable for short video chats, you would not want to use the webcam for giving or recording presentations.
The InfinityBook Pro's chiclet keyboard (Figure 4) is responsive and quiet, with two levels of backlighting, decent travel, and a dedicated Tux key rather than a sticker over the usual Windows key. Our only grumble is the arrangement of the cursor keys: The keys are in a full block with the left and right keys at the full height of the combined up and down keys. Some people prefer this, but we miss the ability to immediately recognize the left/right keys with our fingertips when placing them in that area of the keyboard – without having to actually look.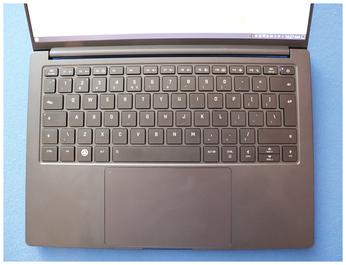 A very spacious glass trackpad sits beneath the keyboard, reaching from the left Alt key to the right Ctrl key. Due to the trackpad's "diving board" style, it's much easier to click at the bottom than the top. The click sound is slightly louder than we'd like but not enough to be annoying when there's other background noise. One interesting addition is a white dot in the top-left corner (Figure 4): Double-tap this dot to disable the trackpad while typing. This is a nice touch, especially for coders, although we found that the trackpad's palm detection was good enough to ignore unintended inputs when tapping away at the keys.
Performance and Battery
Our review unit shipped with a quad-core Intel i5 chip running at 2.4GHz and 16GB of RAM, but the machine can be configured with an i7 (1165G7) processor and up to 64GB of RAM – the latter adds EUR305 (~$357) to the base price. In testing, we found the i5 to be plenty capable of daily tasks, ramping up to 4.2GHz where necessary.
The InfinityBook Pro's fan is silent when the laptop is idling, but as soon as CPU activity ramps up it kicks in quietly. It's barely noticeable when watching 60fps 1080p YouTube videos, but as we kept adding more CPU-bound tasks it turned into a louder, higher-pitched noise. In most use cases, the fan is not especially distracting, but having spent time with various other slim laptops – such as the fanless M1 MacBook Air – we'd like to see more of a push towards reducing fan noise. However, this is limited by the available CPUs, of course.
Although the laptop has vents under the hinge on both sides, only the left one is used to expel hot air from the fan. The air intake area is the grill on the underside of the laptop, so there's a potential risk of overheating if you use it on a bed or other non-flat surface. Having the air intake and output areas located entirely inside the hinge area would be a better solution.
In terms of battery life, Tuxedo claims that this model's 53Wh Li-Ion battery can achieve "max 12 hours when idle" and "max 8 hours for office use." In testing, we found this to be somewhat optimistic: We left the laptop idling with medium screen brightness and the battery lasted seven hours. In a real-world setting with more demanding tasks (watching videos, installing software, doing some research on the web, and writing this very review), we got 4 hours and 50 minutes out of one charge.
To get the battery back up to 100 percent, the supplied charger needs just under two hours (with the laptop turned off). Because the charging light is built in to the power button on the keyboard, you can't see when the battery has been charged with the lid closed-- you need to open the lid.
comments powered by

Disqus
Visit Our Shop
Direct Download
Read full article as PDF: