Create Presentations with Ease

Productivity Sauce
Nov 29, 2010 GMT
Although OpenOffice.org Impress offers a wide range of features for creating high-quality presentations, it's too heavy for users who practice the art of minimalistic presentation design. For them, a graphical presentation tool like Ease will probably be a much better fit.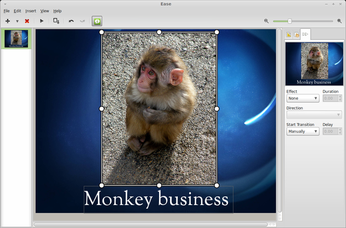 While this application may look rather bare-bones, it does include all the essential tools for creating polished presentations and offers a couple of clever features on top of that. Ease's interface is simplicity itself, and you can find your way around in virtually no time. The application offers a couple of pre-made templates to choose from, or you can create a presentation from scratch. Ease allows you to embed videos and images into slides, and it provides basic support for shapes and slide transitions. Don't have decent artwork to use with your presentations? No problem, Ease sports a nifty feature that allows you to find suitable images on Flickr or OpenClipArt. Choose Insert | Media from the Web and search for the photos or images you want. The clever part is that you can limit your searches to media released under Creative Commons licenses and available for commercial use -- handy if you want to avoid possible copyright infringement. Once your presentation is ready, you can save it in the native .ease format and run the presentation using Ease, or you can export it into the PDF, PostScripts, or HTML formats.
Currently, Ease is available as a source package which you can compile using the configure, make, make install commands -- provided all dependencies are met. If you are using Ubuntu, you can install Ease from a PPA using the following commands:
sudo add-apt-repository ppa:natesm/ease
sudo apt-get update
sudo apt-get install ease
If you find OpenOffice.org Impress overkill for your needs and other tools too limited or cumbersome to use, give Ease a try.
Comments
comments powered by

Disqus

Issue 268/2023
Buy this issue as a PDF
Digital Issue: Price $12.99

(incl. VAT)