Extension Watch: Turn URLs into QR codes with Mobile Barcoder

Productivity Sauce
Jul 15, 2009 GMT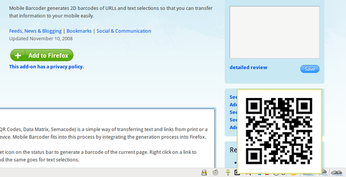 The Mobile Barcoder extension for Firefox is a one-trick pony, but the trick it does is a really neat one. When browsing the Web, you've probably noticed that some Web sites contain QR codes. These codes offer a convenient way to capture and transfer useful information like URLs and email addresses to your mobile device, provided it can read and process QR codes. Say you found an interesting article while browsing the Web on your laptop and you want to read it later on your mobile device. Snap the QR code containing the article's URL with your device, and you can open the link in the built-in browser. But here is the problem: only a handful of Web sites out there actually use QR codes. This is where Mobile Barcoder comes into the picture. This Firefox extension generates a QR code for the currently opened Web page. Once installed, Mobile Barcoder adds an icon in the right corner of the status bar. Hover the mouse over the icon, and it pops up a QR code containing the URL of the currently viewed Web page. Simple? Yes. Useful? You bet!
Comments
Thanks for the review

Thanks for the great review, I love seeing my tiny contribution to people's productivity getting noticed.
comments powered by

Disqus

Issue 268/2023
Buy this issue as a PDF
Digital Issue: Price $12.99

(incl. VAT)