A Sampling of KWin Tiling Scripts
One-Third Window
As the name suggests, KWin Thirds arranges windows in thirds: the left, middle, and right. Meta + Left and Right move a window to the left or right respectively, while Meta+Down moves the window to the middle. Repeating any of these keyboard combinations further divides a window into a top and bottom half.
Quarter Tiling
This script automatically tiles windows, making it a good choice for users new to tiling. Written in TypeScript and transpiled to JavaScript, Quarter Tiling allows custom layouts to be added without recompiling the entire script simply by placing them in the same directory as existing ones.
KWin Tiling
You won't find KWin Tiling currently installed with Plasma. Instead, with git installed, you need to run the following commands as root:
git clone https://github.com/faho/kwin-tiling.gitcd kwin-tilingplasmapkg2 --type kwinscript -i 
The script can then be selected from System Settings | KWin Scripts like any other script.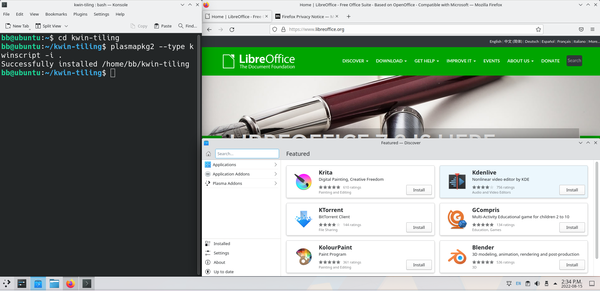 KWin Tiling will automatically arrange windows as they are opened. The layout can be changed by pressing the Windows key followed by Page Up or Page Down. In my experience, KWin Tiling is the best of the available tiling scripts and well worth the extra effort to obtain.
comments powered by

Disqus
Visit Our Shop
Direct Download
Read full article as PDF: