Ballmer: Linux More Dangerous than Apple
Feb 25, 2009
Linux is proving to be a stronger competitor than Apple for Microsoft, says Steve Ballmer at a recent Strategic Update meeting with investors, and has a supporting graphic to prove it.
In the regular investor meetings it's customary to have Microsoft finance chief Chris Liddell and CEO Ballmer ready with financial figures, future plans, market share and competitor information. The presentations are generally done by PowerPoint, this time being no exception.
Ballmer took over when it came to market share matters. One of his slides was entitled "Economic effects on home and business PC's" on which he exposed the current market share of Windows, unlicensed Windows, Apple and Linux. His accompanying comment:
"Windows license, number one market share, number two market share goes to Windows pirated, or unlicensed... Linux, you could see on the slide, and Apple has certainly increased its share somewhat."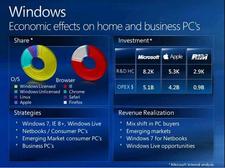 Ballmer took the competition with Apple pretty seriously, but then remarked that "a point of market share on a number that's about 300 million is interesting." He continued, "we're very focused in on both Apple as a competitor, and Linux as a competitor. I think the dynamic with Linux is changing somewhat."
He enhanced his analysis further with another slide that showed the market share of Windows Mobile, which came in third place after Symbian and Rim/Blackberry.
Ballmer nevertheless sees the attack on Windows coming from two sides:
"I assume we're going to see Android-based, Linux-based laptops, in addition to phones. We'll see Google more as a competitor in the desktop operating system business than we ever have before."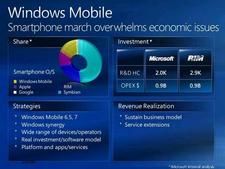 The consequences for Microsoft: "The seams between what's a phone operating system and a PC operating system will change, and so we have ramped the investment in the client operating system," says Ballmer.
comments powered by

Disqus

Issue 268/2023
Buy this issue as a PDF
Digital Issue: Price $12.99

(incl. VAT)