Mozilla Firefox Blocks Microsoft Add-Ons -- Temporarily
Oct 20, 2009
Mozilla added Microsoft's .NET Framework Assistant to its add-ons blocklist over the weekend. The blocklist blocks programs with evident security vulnerabilities. Before the weekend was over, the app was stricken from the list again.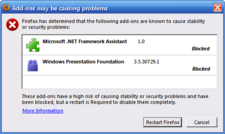 Mike Shaver, Mozilla's VP of engineering, announced on October 16 in a blog entry that the Microsoft .NET Framework Assistant provided a serious security risk and therefore "put the blocklist entry live immediately." Shaver emphasized that Microsoft itself had concurred with the blockage, leading to the move. Over the weekend Windows users were confronted partly with a warning that the Firefox browser was blocking for security reasons not only .NET Framework Assistant but also the Windows Presentation Foundation (WPF) in all versions for all applications.
Meanwhile Mozilla has removed at least the .NET Framework Assistant from the list. Even with the previous blocklist in effect, a new override mechanism in the works should prevent the add-on from being disabled. The WPF add-on still remains on the list.
Shaver issued a follow-up blog to describe the flip-flop as acknowledging Microsoft's revised discovery of the Framework Assistant indeed not being a "vector for this attack." Meanwhile users are puzzled over what correspondence transpired between the two entities between Friday evening and Sunday afternoon. In any case, Shaver appreciates everyone's "patience and support."
comments powered by

Disqus

Issue 270/2023
Buy this issue as a PDF
Digital Issue: Price $12.99

(incl. VAT)