Securing your Online Data Transfer with SSL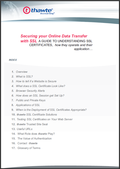 A guide to understanding SSL certificates, how they operate and their application. By making use of an SSL certificate on your web server, you can securely collect sensitive information online, and increase business by giving your customers confidence that their transactions are safe.
Welcome to the Resource Library
Download this asset in three easy steps:
Enter your email address below.
If this is your first visit, we will ask you a few questions.
Proceed to the download page.