Extended Validation SSL Certificates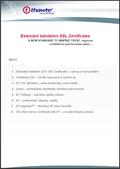 An Extended Validation SSL certificate provides better verification and more reliable user interaction than a standard certificate. Find out why security experts – and several leading certificate authorities – recommended Extended Validation.
Welcome to the Resource Library
Download this asset in three easy steps:
Enter your email address below.
If this is your first visit, we will ask you a few questions.
Proceed to the download page.