The tastiest brain candy to relax those tired neurons
Gaming On Linux
Try your luck with Rocket League, Fear Equation, and Master of Orion.
The Unity game engine has been making some steady progress, but version 5.5 of the editor is the first where the Linux release has been pushed out under a unified codebase with mainline Unity. This essentially means that shortly after getting the editor ported to Linux, the OS is no longer a second-class citizen, making it a far more enticing option for those looking to develop games natively on this incredibly popular engine. At the same time, although it's most likely a while off, Unity developers have been working on integrating support for the Vulkan API, which is exciting stuff, along with porting to SDL (Simple DirectMedia Layer), which would also be a big milestone once achieved.
In the emulator space, the GameCube and Wii Dolphin emulator can now officially boot every GameCube game – bar one stubborn case. This is a pretty huge milestone for an already impressive emulator, although this doesn't mean all the games run flawlessly yet. Dolphin has already overcome many of the technical limitations of the consoles by being able to increase resolution, add things like anti-aliasing, and play at higher frame rates.
Meanwhile, the DRM-free retailer GOG.com has made changes to its legal agreements that have essentially opened the door for the sale of games with more downloadable content (DLC) and in-game currency. Although these games aren't hugely popular with everyone, it does mean that there is now far greater potential for the roster of games to expand and thus more choice for those who like to avoid DRM.
Rocket League
A go-to multiplayer fix
Web:http://store.steampowered.com/app/252950/
Price: $19.99/£14.99
Football games have been overdone to the point where yearly releases now consist of roster changes; however, for many, they are still the de facto multiplayer game. Thankfully, Rocket League maintains the universally understood rules that make these games so widespread but changes almost every aspect for those of us bored to death of them.
Aside from the basic premise of two teams, a ball, and goals, the rest is pretty different. On top of cars that can drive up walls and a giant ball, a game of Rocket League does away with all the rules that don't necessarily translate well into video games, such as throw-ins and offsides, resulting in a fast-paced game without interruptions. That said, basketball, ice hockey, and other variants, although fun, are far less commonplace in the available online matches.
Rocket League not only gets cross-platform online multiplayer right on the PC, it also allows Steam users to play against console players, which is a refreshing rarity. As always, playing with people you know results in better gameplay given that the typical scenario is otherwise every player going for the ball without any real strategy. It's also worth mentioning that the game has fully functional controller support, which is without a doubt the prefered choice in this case.
The game really hits all the marks when it comes to a multiplayer experience, although it isn't without nitpicks. A more engaging single-player experience or career mode would have been nice, even if it was thrown in at the last second. Even some sort of backstory to the world would be nice. Aside from that, it's hard to find much wrong with the game, and it even does DLC and unlockables right by having no pay-to-win elements or other unfair advantages, while offering customization options to those who want it. Overall, it's a great game to play online – fantastic with friends and somewhat mediocre by yourself.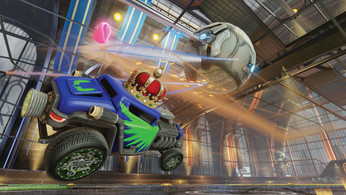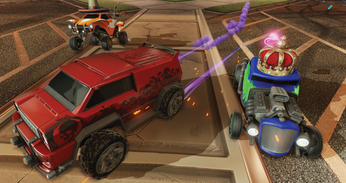 Master of Orion
comments powered by

Disqus
---
Support Our Work
Linux Magazine content is made possible with support from readers like you. Please consider contributing when you've found an article to be beneficial.
---