Social Hardware's Prosthetic Hand Development Kit
Open Hardware – Prosthetic Hand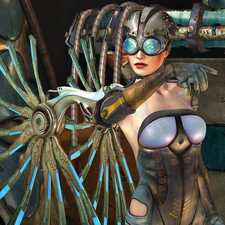 In true open hardware spirit, Social Hardware looks to produce a development kit for prosthetic hands to help rural amputees in India.
India has more than half a million upper limb amputees. Most have no hope of a prosthetic, partly because of a world-wide shortage of prosthetic technicians, but mainly because prosthetics start at $30,000, far more than many amputees can afford. In this crisis, any innovative solutions are welcome, and Cameron Norris and Abhit Kumar of Social Hardware [1] are about to launch a crowdfunding campaign to provide one [2]. The campaign will be for the production of a Prosthetic Hand Development Kit, which will allow backers to build a hand for less than $500 – and, Norris hopes, will encourage buyers to donate their results to amputees in India (Figure 1).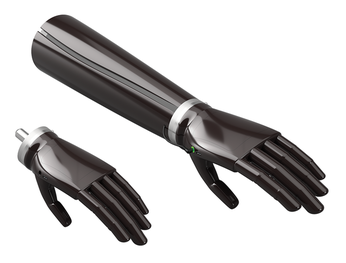 Norris' background is in digital marketing. He adds, however, that "I've always gravitated towards design and technology." In pursuing those interests, Norris went to work for Wevolver, a London-based community site for sharing open hardware projects [3]. As part of his work, he documented more than one hundred projects, as well as helping projects with community building and licensing issues, all of which helped him to understand the characteristics of successful open source projects.
Norris first became interested in prosthetics after reading a Reddit post about Ryan Cashman, an American who faced the amputation of a hand after a workplace accident [4]. Wevolver made Cashman a modified Exiii HACKberry hand [5] – only to learn that Cashman had opted for a partial hand amputation and was eventually outfitted with a prosthetic for weightlifting by a commercial company. However, in the process, Norris was put in touch with several dozen experts. Just as importantly, Norris concluded that "the method of crowdsourcing ideas and collaborating internationally to solve problems was definitely validated, and I felt optimistic for the future of open hardware."
Later in 2015, Norris took part in the Enable Makeathon [6], a 60-day hackathon in Bengaluru, India. There, he struck up a friendship with biomedical engineer Abhit Kumar, whom he had previously encountered on Reddit. During the hackathon, Norris says, "it became clear that access to prosthetic devices would have a massive impact on the quality of life for rural amputees from low-income communities, but existing solutions were either unhygienic, too expensive, or lacked the durability to function reliably in a rural environment."
Since then, Norris and Kumar have founded a company called Social Hardware and have participated in a startup incubation program. Norris has also served as an advisor on open source community development for Astroplant [7] – a project with the European Space Agency – and as an advisor for Disrupt Disability [8], a project developing open hardware wheelchairs.
Based on their experience, Norris and Kumar plan to use their Prosthetic Hand Development Kit to help to solve the problem with access to reliable prosthetics. According to Norris, the highest rate of amputation in India occurs in rural areas due to work industries. As cars and modern agricultural machinery are introduced, the injury rate continues to rise. The problem is further compounded by a rapidly aging population, who may not have the strength to use body-powered prosthetics.
The Development Kit
According to Norris, "the goals of the development kit are to raise awareness of India's aging, rural amputee population, encourage others to participate in the development of assistive technologies, and raise the money required to provide rural amputees with our prosthesis for free. We hope this will inspire more people to participate in humanitarian innovation by starting new initiatives in support of medically underserved communities elsewhere in the world."
The kit came about because of Norris's efforts to construct a hand for Cashman. Norris explains, "My own experience illustrated just how difficult it can be to source all of the required parts for a functioning device. Incomplete or overly complex documentation added to the confusion, forcing me to improvise during assembly, often with mixed results. With this in mind, the secondary goal of our kit is to ensure that open source hardware development is as pain-free and accessible as possible, so that developers can focus on learning and innovating, rather than scouring the web for discontinued electrical components they may never find."
The kit is aimed at students and hobbyists and is intended to orient them toward the resources they will need to construct a hand. Its contents will include links to online documentation and videos, as well as assembly guides, design files, open source software, motors, an Arduino-compatible ATmega328 control board, a power bank that can be used as an emergency power supply, sensors, and all the parts required to assemble a single device. Each finger will have three degrees of freedom – that is, each will be able to move in three directions.
The resulting hand will be made from antimicrobial silicone rubber, making it hygienic as well as resistant to ultraviolet light, dust, stains, and water. Since silicone rubber is heat resistant up to 300°C, the wearer of the hand will be able to use it around an open fire without the risk of melting a finger – which, Norris notes, "is possible with your typical 3D-printed hand due to the use of thermoplastics with a relatively low melting point. From the beginning, our aim has always been to develop a hand that is as durable and maintenance-free as possible, as lack of adequate durability is a common complaint among battery-powered prosthesis users internationally."
The kit will also include a free prosthetic design course designed with help from Autodesk on the subject of creating custom sockets for attaching the hand to the body. This feature is necessary because all amputees do not have the same amount of a limb remaining. However, Norris warns that the construction of a custom socket "should be for educational or research purposes only, unless a certified prosthetist is available to carry out the socket fitting." For this reason, the project is partnering with the Association of People with Disabilities to provide free on-site socket fitting and physiotherapy. In this way, the kit users will not need to attempt a task that is likely to be beyond their training and experience.
The finished unit will be compatible "with most standard M12 prosthesis controllers," [9] Norris says, "such as the widely used Ottobock 10V8 Movo [10], enabling patients to attach the device directly to their existing upper limb socket. Additionally, the hand can be controlled by virtually any sensor with a 3.5mm output jack, including commercial EMG sensors and open source alternatives, such as the low-cost IR sensor developed by Masahiro Yoshikawa from the Osaka Institute of Technology [11].
However, because keeping the kit's price low is a priority, the resulting hand will have only two motors and will only be able to control the index finger individually. These limitations mean that the hand will have only a limited number of possible grip patterns – although Norris does point out that the functionality will be roughly equivalent of an Exiii HACKberry. However, Norris hopes that kit users will extend the functionality of the hands (Figure 2).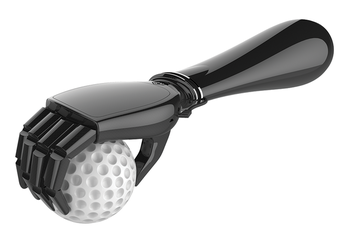 Additionally, any changes made to the original design will have to be individually certified. However, Norris says, "We will provide support to any developers seeking to do this."
For the Future
The basic kit will undergo a large pilot study in rehabilitation centers in Gujarat, Karnataka, Rajasthan, Punjab, and West Bengal later this year. Based on the results of the pilot study, Norris hopes that the basic hand will be medically certified by early 2019. Future plans also include reaching out to international aid agencies and manufacturing the kits locally in India. As Norris points out, local manufacturing will decrease costs for the agency and allow quicker delivery while strengthening the local economies.
The problems the kit is designed to address are not simple, going far beyond the obvious medical ones. Currently, more than 70 percent of India's population is rural with limited access to prosthetics. Just as importantly, most of the prosthetics used in rural India are made in Europe and North America, costing far more than an average family's income. Nor are the available prosthetics designed for a rural lifestyle. In effect, many rural Indians have no access to suitable, much-needed prosthetics. The proposed kit and its implementation should go a long way to alleviating these problems. I can't help thinking that open source will play exactly the role for which it was designed.
comments powered by

Disqus
---
Support Our Work
Linux Magazine content is made possible with support from readers like you. Please consider contributing when you've found an article to be beneficial.
---