FOSSPicks
Pick
Even when you don't work with color as part of your profession, color is obviously vitally important. And yet, on our computers, it's seldom given much thought. Unless you're in a creative profession, playing or editing images and video, you often leave the onscreen colors to content producers and theme editors. Part of the reason for this is that editing color, and color information in general, is relatively inaccessible. Each desktop will typically have its own palette, its own color selectors, and, if you're lucky, even its own names for colors. If you're unlucky, a color is little more than a hexadecimal value, and where and how you change colors or copy them is usually as opaque as a midwinter snowstorm. Which is why Pick is such a useful tool.
Pick is one of those applications that solves a small issue so effectively you wish more applications would do the same rather than trying to cram in every feature under the sun. It's a GTK+ 3 application that integrates perfectly with any desktop. It particular, its top-left "picker" action icon is positioned perfectly. Click this and a perfectly rendered circle is overlaid onto your desktop, with the interior portion of the circle showing a pixelated magnification of an area beneath. A pixel-sized select helps you choose the pixel of the color you want to select. After doing that, the main window registers the color with a swatch of the color itself alongside a thumbnail showing from where the color came. To the right of these, you get the RGB value for your color – and cleverly – a text description, such as Tuna, Lynch, Fern, and Tawny Port. The RGB can then be copied to other apps, used in CSS, or used anywhere else you need access to color.
Project Website
https://kryogenix.org/code/pick/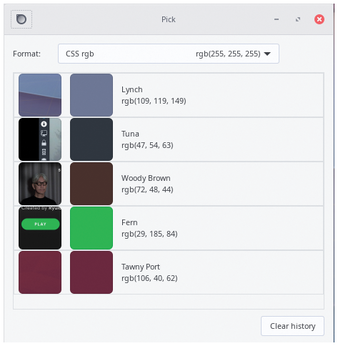 Writer's aid
Name Generator
If you've ever been responsible for choosing a child's name, you'll know how difficult it can be (unless you're calling them $YOURNAME III). It's a huge and impossible task, and you'll never know whether you made the right choice, especially as you're likely to keep quiet if you feel you have made the wrong one! If you're a writer, you encounter a very similar problem when creating fictional characters for a story. Those characters need to live with their names, at least within the confines of your story, and the writer often brings a huge bias that isn't easy to overcome when you're trying to name a personality that isn't supposed to mirror that of the author. When a book might typically have 20, 30, or more characters, it can become a real stumbling block to progress.
Which is where the super simple, super easy to use, and super useful Name Generator can help. With just a couple of sliders, a selector for Male and Female, and a number for the amount of names you want, you can generate a huge variety of names for your fictional characters. The two sliders let you make either the surname or the first name less obscure or more obscure. Less obscure first names include Susan, Henry, Sandy, and Kevin, while moving this to the right returns names like Luna, Cedrick, Hildred, and Colton. It's obviously a very simple project to create and makes an ideal first foray into GTK+ development, but it's also very useful for those that need a name generator. The names themselves are from public US Census data, and they're simply stored in three text files. This means that even non-programmers can fine tune the names or the name generator to their liking, making this an ideal first project both to study and augment.
Project Website
https://github.com/jsseidel/namegengtk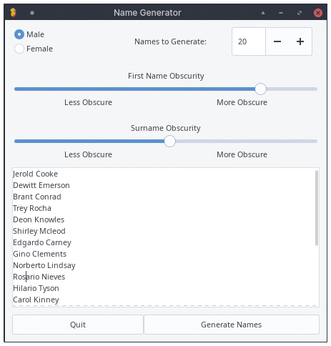 comments powered by

Disqus
Visit Our Shop
Direct Download
Read full article as PDF: