Exploring Samba's new registry-based configuration
net (rpc) registry
Samba's swiss army knife net basically has built-in command line versions of regedit: net registry to access the local registry and net rpc registry to access a remote registry over RPC. Although these tools are almost as clumsy as regedit, they do allow the administrator to produce more convenient custom tools with Unix shell scripts. Table 2 shows the available subcommands of net registry, and Listing 3 demonstrates an example of configuration tasks. The use of net rpc registry is completely analogous – you just call it as net -Uuser rpc registry … or even net -Uuser%password rpc registry … when it is too inconvenient to type the password at the prompt for each call.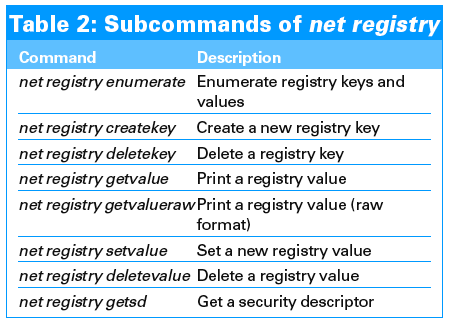 Example net registry Session
net conf
net registry is pretty chatty and clumsy for day-to-day administration tasks, so net now comes with a dedicated registry configuration interface offered by the new net conf command. Table 3 provides a summary of net conf options.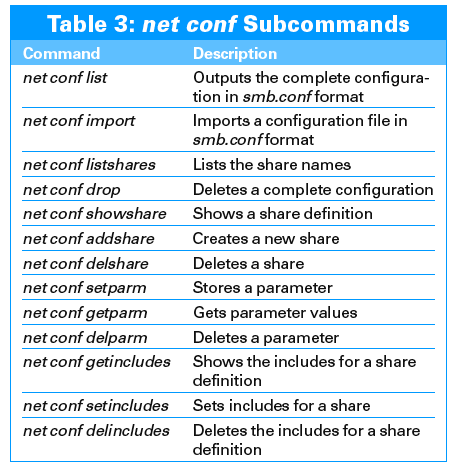 The net conf list command outputs the complete configuration in smb.conf format, whereas net conf import imports a smb.conf text file into the registry, dropping all previous data. This way, one can easily switch back and forth between registry- and text-based configuration if necessary (Listing 4).
Writing GUIs
An abstraction layer called libsmbconf presents all necessary methods to access Samba's registry configuration from C code. net conf and the server use libsmbconf to access the registry. The Samba project site has more details on the API [5]. libsmbconf is not published as a shared library because of linking dependencies to a lot of Samba internal code that is not yet properly chopped into shared libraries. Eventually the idea is to release libsmbconf so that it's easy to write third-party applications to configure Samba. A first example application called netdomjoin-gui is available with the Samba code. netdomjoin-gui is a Gtk program that joins your Samba into an active directory domain, modifying the registry configuration accordingly. It is modeled on the native Windows join dialog. The code is under lib/netapi/examples/netdomjoin-gui in Samba's source tree.
To compile the application, use make -C lib/netapi/examples; afterwards, you will find the binary in lib/netapi/examples/bin/netdomjoin-gui. Starting with a smb.conf file that contains config backend = registry and an empty registry configuration, the administrator calls netdomjoin-gui (Figure 3). Listing 5 shows the registry configuration after the process is finished.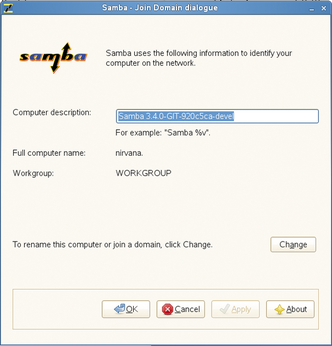 Registry Configuration after the Join
comments powered by

Disqus
Visit Our Shop
Direct Download
Read full article as PDF: