From small businesses to transport empire
Driving Business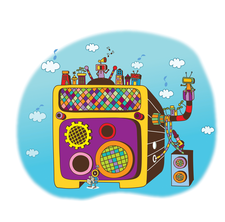 OpenTTD, based on the commercial business simulation game Transport Tycoon Deluxe, invites you to create a transport empire on land, on water, and in the air.
Computer-based economic and transport simulation games comprising a well thought out abstraction of reality and a sufficiently sophisticated and diverse use concept can easily become addictive. And, in combination with attractive, highly detailed, but not overloaded graphics, such games can become cult classics.
SimCity [1] has lost none of its attraction since it was first published more than 20 years ago and is viewed as the starting point of an entire genre (see Table 1 for an overview). The original SimCity source code also served as the basis for Micropolis [14], which is used on the One Laptop Per Child computer.
Overview of Economic Simulation Games
| Game | License | Released |
| --- | --- | --- |
| SimCity | Commercial | 1989 |
| Transport Tycoon/Transport Tycoon Deluxe (TTD) | Commercial | 1994 |
| Lincity/Lincity NG | Free | ~1995/2000 |
| Simutrans | GPL | 1997 |
| Transport, Industrial and Traffic Giant | Commercial | 1997 |
| Mobility | Free | 1999 |
| Locomotion | Commercial | 2004 |
| OpenTTD | Free | 2004 |
| Micropolis | GPLv3 | 2007 |
| Cities in Motion | Commercial | 2011 |
These games differ not only in terms of visual presentation – top view, isometric view, or 3D model rotatable in all directions with various zoom levels – but in terms of their subject matter and tasks for the player. Whereas SimCity, Mobility, Lincity/Lincity NG, and Micropolis map complex urban processes with development plans, including infrastructural aspects such as electricity and water, the other programs focus exclusively on building and the profit-oriented operation of a transportation network, including route and cargo planning – a challenging task, especially with very large playing areas and in multiplayer mode.
Development of the game board (landscape) is handled by built-in artificial intelligence (AI). Factors that influence change include the quality of the transport connections and the nature and volumes of transported goods. As you transport cargo from one place to another over a period of time, the highly trafficked regions develop faster than areas without traffic. The settlements, which are easily manageable at first, grow more complex and develop into densely populated urban areas.
OpenTTD
OpenTTD is a free implementation of Chris Sawyer's Transport Tycoon Deluxe (TTD). The OpenTTD developers used a large part of the binary data, but none of the program code, from the legacy TTD game and licensed the results under the GPL. The audio and graphic data contained in the Debian packages were also reprogrammed so as not to cause licensing issues.
The Aim of the Game
The starting point of the game is a generated map with cities, sources of raw materials, and industrial equipment. On this map, you build a thriving transport and logistics company with its own fleet of self-defined hubs between the people and cargo (raw materials, goods, and mail). The aim is to achieve transport sovereignty in the landscape by becoming a Transport Tycoon.
As a player, using a little entrepreneurial, forward thinking can help you immensely. The ability to plan also improves the process of strategic, ongoing improvement of your transport network (construction, maintenance, expansion, and compression).
Basic Game and Map
The map consists of individual square tiles. You can set the number at the start of the game but cannot change it later. A single tile is either water or land mass, which is developed or undeveloped. If undeveloped, for example, the land can include a meadow, rocks, or trees to give the game a more natural look.
The whole map has a height profile. You can raise or lower the individual points of the height profile in the course of the game. You always need to keep an eye on your costs and budget; for example, creating islands is very expensive. Do not make major changes: If you flatten entire mountain ranges, your reputation drops noticeably, and the affected cities and communities refuse planning permission for building or extending the required hubs and transport routes.
comments powered by

Disqus
---
Support Our Work
Linux Magazine content is made possible with support from readers like you. Please consider contributing when you've found an article to be beneficial.
---