WLAN security
Tracing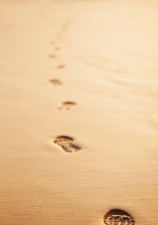 Almost every wireless LAN has some potential security weaknesses. The Wifislax Slackware derivative helps detect and eliminate them.
Even before the revelations by Edward Snowden, security in computer communications was a hot topic, and it's not just the spooks who are listening in: script kiddies, crackers, and war drivers can break into networks and do damage. Because WLANs are becoming increasingly popular, it's not just PCs that connect wirelessly to one other; printers, TVs, and mass storage are all integrated in a WLAN.
Although Linux it is widely viewed as a bulwark against such machinations, the free operating system cannot prevent vulnerabilities in existing industry standards. Therefore, you should take a detailed look at the security settings of your wireless network and shut down any vulnerabilities. The Wifislax [1] Live forensics distribution, which originates from Spain, reliably identifies weaknesses and helps you remove them.
First Start
The Wifislax ISO image [2], which weighs in at just 630MB, fits perfectly onto a CD. When launched, the system comes up with an unusual GRUB screen: You can then change the language setting to English in the first step and select whether to boot Wifislax with a conventional or PAE kernel. In a second splash screen, you can specify whether you prefer KDE SC or Xfce as your desktop environment.
Other startup options, such as loading the VESA video driver or disabling the ACPI settings, are used only for emergencies, if the operating system fails to launch with the desired options. After you have selected your preferred desktop, Wifislax boots into what at first glance appears to be an ordinary desktop (Figure 1).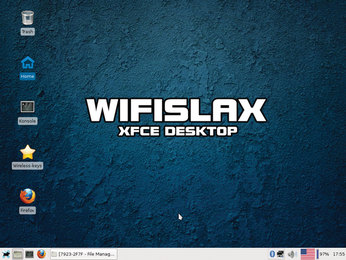 An initial look at the various menus clearly shows that the distribution's emphasis is on network security applications: You will not find the typical Linux programs like GIMP or LibreOffice or any multimedia applications. Additionally, frequently used Internet applications such as chat and email clients, BitTorrent, and news reader software are missing entirely.
Only the System menu proves to be well provisioned straight out of the box; you also have the option of using the Install item to install the Wifislax operating system permanently. If you need additional software, Wifislax – as a Slackware derivative – offers Gslapt, a Synaptic-style interface as a front end that lets you to use the distribution's software repositories. You can access Gslapt via the menu: System | Wifislax packets administrator | Packages admin with frontend gui (Figure 2).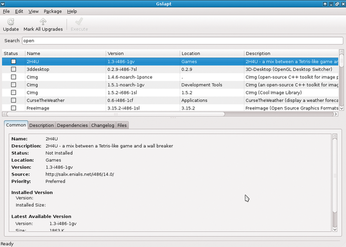 Installation with Obstacles
Contrary to the assumption that Wifislax – like other well-known Linux distributions – can be installed on your hard disk with just a few clicks, the installation routine exhibits significant weaknesses in practice.
Although you use the System | Install Wifislax | Wifislax Installer QT to access an easy-to-use, graphical program for permanent installation, this tool will only be successful if you have previously prepared the hard drive with a third-party disk partitioning program.
The Wifislax installer fails to identify bootable partitions correctly when other Linux distributions already exist on the hard disk. Instead, the program proceeds to copy Wifislax to an imaginary new partition, which obviously fails. Because the installer is exclusively available in Spanish and has an unusual progress bar, as well, this process can quickly lead to confusion.
Partitioning the existing hard disk at the command line with fdisk or cfdisk is not sufficient. The hard disk can only be prepared successfully by calling System | GParted. Next, you must unmount all the active partitions on the storage medium and delete them. Then, you can create the new partition intended for permanent installation. The next step is to restart the system.
After booting, again call the installer. After it has finished its work, it offers to customize the GRUB boot manager. To do this, the routine relies on another external program. After installing GRUB 2 in the MBR of the disk, you can easily start the operating system. You now have the same software scope as in the Live version.
As a desktop environment, however, only the desktop previously selected in the Live mode is active; you are no longer required to choose between KDE and Xfce in the boot menu.
Network
At the top of the main menu, you will find the Wifislax program group with various submenus. Here you will find all the applications you need to secure a wireless network. Among them are many virtually unknown programs; thus, it pays to take a closer look at the menus (but see the box "Beware!").
In addition to the configuration and monitoring software in the various Wifislax submenus, you can also find many programs that allow you to launch attacks on the intranet. Improper use of these applications can cause significant damage, so you should check carefully how the respective software works before you use it.
The first step is to establish a connection between the Wifislax system and the WLAN. The Wifislax | Network Managers menu contains two well-known graphical tools: WiFi Radar and Wicd.
In the first tests with Wifislax, no wireless card was found, and thus no wireless networks, because my laptop has an older Intel wireless card with a Calexico2 chip that Wifislax – along with many other distributions – does not immediately support.
In this case, I first needed to obtain updated firmware for the WLAN chipset [3] and then store the files with a suffix of .fw that I unzipped from the downloaded archive in the /lib/firmware/ directory. In contrast, two lab machines with wireless chipsets by Atheros had no problems and immediately cooperated with the ath5k and ath9k Linux drivers.
comments powered by

Disqus
---
Support Our Work
Linux Magazine content is made possible with support from readers like you. Please consider contributing when you've found an article to be beneficial.
---