A first look at Valve's gamer Linux SteamOS
Interplay
After the installation and a reboot, select Recovery mode in the boot menu shown in Figure 2 to point SteamOS to the VirtualBox graphics driver. Recovery mode launches into a command shell with root privileges. In the virtual machine window, select Devices | Insert media with guest extensions. In SteamOS, mount the CD with the drivers and install them:
# mount /media/cdrom # sh /media/cdrom/VBoxLinuxAdditions.run
Then, unmount the CD using umount/media/cdrom and by calling Devices | CD/DVD drives | Remove media. If VirtualBox complains, force an eject.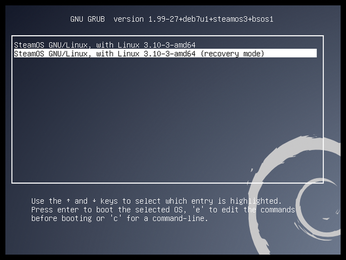 To be able to log on later, and in particular, to be able to use sudo to install software, you need to assign a password to the default user set up by SteamOS (desktop) by typing passwd desktop.
Next, restart the system using reboot. In the boot menu, simply confirm the first item. If you are only taken to the EFI input prompt, type the following command:
FS0:\EFI\steamos\grubx64.efi
In the login screen, select GNOME from the drop-down list, type desktop, press Enter, and then enter the corresponding password. You can launch the Steam Client by double-clicking on the Return to Steam icon.
If nothing happens, or if you see an error message, restart the system. Then open Activities, type terminal, confirm by pressing Enter, and launch steam. The Steam client will should first upgrade, and this can take a few minutes.
Conclusions
The first version of SteamOS made a stable impression thanks to Debian 7. The radical Installation is a breeze for Linux novices. However, some features are still missing, in particular, the much heralded streaming, which involves the game running on a powerful desktop PC, which forwards the images to the Steam Machine.
Valve advertises its Steam Machines and SteamOS as an open system. However, Valve continues to jail up the user in the Steam world, despite its Steam client running on free Linux underpinnings. Any games you purchase on Steam are restricted by DRM; the data and scores are all sent to the vendor in a style similar to other game vendors, such as Sony, Microsoft, and Nintendo. Having said this, users of SteamOS still enjoy more freedom than those of other consoles – at least currently.
comments powered by

Disqus
---
Support Our Work
Linux Magazine content is made possible with support from readers like you. Please consider contributing when you've found an article to be beneficial.
---