Correcting exposure retrospectively with Urban Lightscape
Managing Control Points
In addition to precision work with control points, Urban Lightscape also provides some global settings. They are also restricted to controlling the brightness. The otherwise typical functions for correcting colors and the like have no place in this solution.
In the sidebar under Light settings, two controls let you control the behavior of the control points. Spread lets you determine the scope of a single control point. This functionality allows very targeted customization, especially if you have multiple points at one location. The Smoothness tool lets you control the transitions between individual areas. At extremely low values, you might experience minimal, but visible, jumps in brightness on the borders of the areas where you apply the tool. The higher the value, the softer the transition. In each case, it is important to consider whether you need very accurate control or prefer a softer impression on the image.
In the same pane are three other controls: Blacks, Whites, and Brightness. The Blacks slider affects all image elements that have a black component. In Figure 5, this includes the blue areas of sky.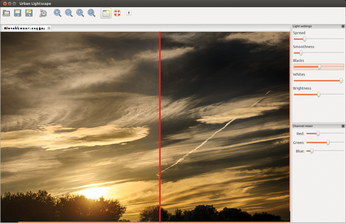 Similarly, the Whites tool lets you control all areas that contain white. Manipulating areas containing black typically has a more pronounced effect on most photos, because pure white exists only in rare cases.
Beneath the Light settings pane is the Channel mixer. These controls do not manage the colors, as you might expect; rather, they change the brightness in certain color ranges. If you increase, for example, the value for red and reduce the greens and blues, the red components appear somewhat brighter. If you increase red and green equally, yellow hues are more pronounced.
Applications
Urban Lightscape is a specialized tool. With a few mouse clicks, you can increase or decrease the brightness at selected points very easily. That does not sound like much, but it often makes a big difference in the final product (Figure 6).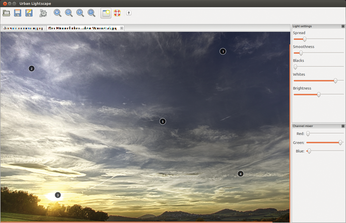 In combination with other image editing programs, Urban Lightscape often can speed up your workflow; after all, to achieve the same effect in GIMP, you need more complex tools. A plugin solution for GIMP, as it exists for Photoshop, would be desirable.
Conclusions
Not everyone who deals with photos, requires Urban Lightscape. For most cases, the tools in GIMP or other programs will meet your needs. However, if you often have to cope with difficult lighting situations and do not want to become involved with complex HDR techniques, this tool can vastly simplify your work.
The processing breaks the program took while thinking about what to do next were less satisfactory: If you change the zoom settings in large files, the display lags significantly behind.
comments powered by

Disqus
Visit Our Shop
Direct Download
Read full article as PDF: