Doghouse – Happy Anniversary
Many Happy Returns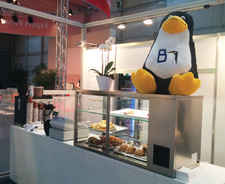 "maddog" remembers 20 years of association with Linux, CeBIT, and open source.
I am writing this on the floor of CeBIT, the world's largest computer and telephony trade show. I am sitting in the booth of Medialinx, the parent company of Linux Magazine and various other "open source" magazines. I see from their posters that this year is the 20th anniversary of their flagship publication Linux Magazine, and I realize it is also the 20th anniversary of my involvement with the Linux project, because I met Linus Torvalds in May 1994.
I remember the first time I came to CeBIT. In those days, there was a waiting list to get floor space at the CeBIT show, and "first year" companies did not have a chance for even the smallest booth on the show floor. Linux International had a small booth in a "USA" pavilion, and except for the SUSE booth in another hall, we were the only visible "Linux" booth. The booth was shared by a fledgling Red Hat Software (represented by Bob Young), Caldera Software (represented by Ransom Love), and myself. We were handing out free CDs of Red Hat, Caldera, and (after they brought the CDs over) SUSE to anyone who asked for them.
During the first year I was at CeBIT, two other companies also carried the Linux flag, however. One was SAP, the largest software company in Germany, who liked GNU/Linux as a platform, and the other was an Israeli company called "Magic Software."
We were new to the CeBIT audience and were not really ready for the massive crowds of people reaching out for this operating system that was gratis – and free. Once people understood that we were not charging for the CDs, we often had the crowds surging into the booths, and we would retreat back into the booth to keep from being crushed.
The CeBIT management took notice of the popularity of our booth and suggested that if we could get together 10 or more companies to take small booths, we could have a "Linux Pavilion" of our own.
We worked hard during the next year, and we got the mandatory 10 booths. We had a small row of five booths on either side. Unfortunately, two other vendors inadvertently were included in our pavilion who had nothing to do with GNU/Linux or Free Software. Our pavilion was mobbed with Free Software advocates, and those poor vendors kept saying, "I really have nothing to do with Free Software, but I make really great computer cases!"
The "Linux Pavilion" continued to grow, but it was in Hall 6, and most of the operating system and system vendors were in Hall 3. Eventually, however, we moved to a large, two-story pavilion in Hall 3, where the second floor was made up of offices for conversations and a lounge where people could store their coats and other things. Each year for three years, the Linux Pavilion grew.
After the third year, I became aware of another Linux Pavilion called "Linux Park," which was run by a company called Linux New Media (recently renamed Medialinx). The vendors in Hall 3 were complaining that they did not know which "Linux Pavilion" to be in, and because Linux Park was doing well, I decided not to hold the Linux Pavilion again and to defer to Linux New Media to head up that pavilion, which they have been doing ever since. Still, unless the company was inside the Linux Pavilion or Park, the fact that a particular company used Linux was invisible.
Then, a year after "Tux" the penguin was created, I was walking through CeBIT and saw that one pavilion had a two-foot tall plush Tux doll at the top of their booth, and it seemed to be drawing a lot of attention from various groups of people. A couple of days later, several more large plush Tux dolls appeared in the same hall, and people were running from Tux to Tux. The vendors were beginning to learn that running on GNU/Linux or having tools that could develop on GNU/Linux also drew new customers to their platforms and products.
Today the "Linux Park" has renamed itself "Open Source Park" and is tightly integrated with Mobile Enterprise Park (a lot of which are based on Android, itself based on the Linux kernel). Although a lot of the vendors use GNU/Linux and Open Source as a selling point, others hardly mention it, instead touting free and open source development as a "given" and expanding what we do to "Free and Open Culture" and rapid development through collaboration.
CeBIT is a show that is often cold, wet, and tiring for vendors, but it is satisfying that GNU/Linux has worked its way into mainstream products and services.
Happy 20th birthday, Linux Magazine, and I hope you have many more.
comments powered by

Disqus
---
Support Our Work
Linux Magazine content is made possible with support from readers like you. Please consider contributing when you've found an article to be beneficial.
---