Detoxing your operating system
LSO Cookies
Another annoying "feature" that can waste a lot of space over time is the increasingly popular LSO cookies. These Flash cookies, so known because of their proximity to Adobe's Flash Player files, are primarily used for detailed logging of a user's individual surfing habits. Compared with their traditional text-based cousins, LSO cookies are not only significantly bigger but also remain on the system even longer. They also represent a data protection problem because they are difficult to remove manually from the system.
To get rid of these curious memory hogs, users with Firefox need the BetterPrivacy plugin from the Mozilla page [5]. After installation, a window appears when you close the web browser, asking you to select an approach for handling the existing LSO cookies. The recommended approach is to enable the Delete Flash cookies on Firefox exit option in the Options & Help tab of the plugin's settings dialog.
The path to enter for locating the LSO cookies, if the software does not automatically detect the correct path, is ~/.macromedia. You can access the plugin's LSO Manager in Firefox via the Tools | Add-ons | Extensions menu. This shows you a list of LSO cookies still present on the system in the browser. At the bottom of the LSO Manager tab, you will also see an indication of how many Flash cookies were automatically removed from your system (Figure 6).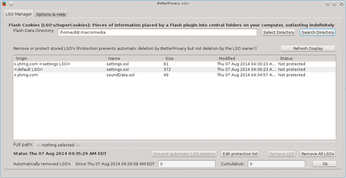 Because Flash cookies can settle everywhere in the system where the Flash player or some compatible application resides, regardless of the browser you use, you need to remove these pests manually if you use any web browser other than Firefox or Iceweasel.
The easiest way to deny Flash cookies access to the system manually is to lock the storage folder. On Linux, LSO cookies usually end up in the hidden ~/.macromedia/Flash_Player/#SharedObjects/ directory. By entering the command chmod -R 400 .macromedia/ from the home directory of the logged-in user, you can lock the folders recursively for storage access. From now on, the Flash Player will be unable to store cookies in the designated directory, thus saving valuable space.
Conclusions
Even Linux systems tend to put on weight over time, and countless logfiles, cache files, temporary data, and privacy-invading software off the Internet aggravate this tendency. On heavily used systems, orphaned files are often hidden away, wasting valuable space. Last, but not least, is the danger of accidentally storing duplicates.
Armed with the JDiskReport, Sweeper [6], and BleachBit tools, as well as the BetterPrivacy add-on for Firefox and Iceweasel, you can put your system on an effective diet that makes a slender, high-speed sprinter out of an installation that is approaching obesity after long use.
comments powered by

Disqus
Visit Our Shop
Direct Download
Read full article as PDF:
---
Support Our Work
Linux Magazine content is made possible with support from readers like you. Please consider contributing when you've found an article to be beneficial.
---