Putting office suites to the test
Light and Shadow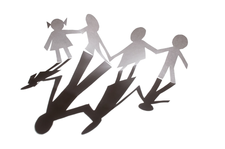 In the office, the interoperability and cooperation of a few programs play an important role. We take the four big Linux office suites to task and see how well they cope with non-native formats.
Office suites are probably the most frequently and universally used programs; therefore, every desktop Linux distro includes them when installing on a hard disk. Although the features of the free word processors, presentation programs, and spreadsheets outside the Microsoft world differ hardly at all, the integrated programs aim to score points with additional features and unique operating concepts.
Two key questions that determine the success or failure of an office product are: How compatible it is with Microsoft formats? Do providers within the industry support it?
LibreOffice 5.0.6 [1], Apache OpenOffice 4.1.2 [2], SoftMaker Office Professional 2016 [3], and WPS Office 10.1.0.5672 [4] demonstrate their practical capabilities in different environments that developed over time (Table 1). Along with interoperability, I look at the user interface, because the best conversion filters for foreign file formats are of little use if the office program is difficult to control.
Comparing Office Solutions
Features

OpenOffice

LibreOffice

SoftMaker Office

WPS Office

License

LGPL

Mozilla Public License

Proprietary

Proprietary

Version

4.1.2

5.0.6

Professional 2016

10.1.0.5672

Price

Free

Free

$70, EUR60 (Standard)

Free (Linux), $80, EUR77 (Professional)

Word processing

Yes

Yes

Yes

Yes

Spreadsheet

Yes

Yes

Yes

Yes

Presentation

Yes

Yes

Yes

Yes

Database

Yes

Yes

No

No

Drawing program

Yes

Yes

No

No

Formula editor

Yes

Yes

No

No

Spell check

Yes

Yes

Yes

Yes

Additional dictionaries

No

No

Yes

No

Own macro language

Yes

Yes

Yes

Yes

Template management

Yes

Yes

Yes

Yes

Export

PDF

Yes

Yes

Yes

Yes

EPUB

No

No

Yes

No

MS Office

Yes

Yes

Yes

Yes

ODF

Yes

Yes

Yes

No

Import

MS Office

Yes

Yes

Yes

Yes

ODF

Yes

Yes

Yes

No
Commenting in text documents is the order of the day at many companies and needs to work intuitively and between packages. Here, I look at how well the office suites meet current standards and how quickly the average user can come to grips with any divergence or import artifacts.
Last, but not least, the test also considers how well the test candidates fit into existing business infrastructures. The usefulness of an office application hinges on the interfaces provided for it by third parties so that it can be part of an integrated solution.
Format Chaos
On Windows and OS X, the operating systems leading by market share, Microsoft Office has firmly established itself as the standard. The Redmond-based giant has not only introduced many new versions of Office over the years but has also modified the file formats. Office documents are not all in the same boat. With no backward compatibility, users cannot open new MS Office documents on older versions.
The alternative office suites must support a variety of MS Office formats to be useful universally, which means that developing new conversion filters is far from a trivial programming task. Three different, mutually incompatible standards exist for Office Open XML (OOXML), and the format specifications span more than 6,000 pages [5].
Another problem stems from the various scripting and macro languages for programming embedded in documents: Whereas Microsoft relies on its VBA (Visual Basic for Applications) dialect, LibreOffice and OpenOffice both use Basic code, albeit with a different methodology and separate objects. The other contenders provide their own Basic dialects as macro and scripting languages, meaning that documents featuring macros in MS format usually will not run smoothly without intervention.
Apache OpenOffice
First into the ring is Apache OpenOffice [2]. Originating in 2000, this office suite is one of the oldest alternatives. The first versions were completely based on the source code by StarOffice, which Hamburg-based Star Division had developed in the 1980s.
During its varied history, OpenOffice passed to Sun Microsystems with the sale of the company in 1999, then to Oracle in 2009. In recent years, this former shooting star among office suites has massively lost out on market presence, and the developer community has shrunk significantly after Oracle delivered a huge snub to many of the very dedicated contributing programmers with restrictive licensing terms in 2010. They migrated in droves to the newly founded Document Foundation and worked to improve the LibreOffice office suite derived from OpenOffice.
Although Oracle transferred the rights for OpenOffice to the Apache Software Foundation [6] in 2012, it was not possible to make up for the drain of qualified staff, meaning new releases of OpenOffice have not been forthcoming. The current version 4.1.2 has been out since October 2015 [7]. Apache OpenOffice is available for Linux as a precompiled tar.gz archive for 32- and 64-bit architectures [8]. The archive, only around 170MB in size, contains RPM or DEB packages, depending on the platform (32- and 64-bit), and is offered in many languages.
In the test, however, the 64-bit variant flunked on the ROSA Desktop Fresh R7 Linux distro: The package installed, but I was unable to launch it. Because I failed to find any meaningful log entries for the cause of the glitch, I left Apache OpenOffice out of the test on the Russian Mandriva edition.
After a successful installation, you will find some new entries in its menu structure in the All Programs subfolder: OpenOffice creates its own starter for each individual module, and another for the selection screen, from which interface you select the individual applications (Figure 1).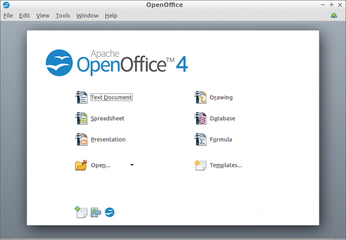 As a full-fledged office suite, in addition to the three standard applications – word processing, spreadsheet, and presentation – OpenOffice also includes a database and a built-in formula editor for mathematical and scientific formulas. A vector-based drawing program is also integrated in the form of Draw. The individual components of the office suite can link and exchange data with one another; external conversions are not necessary.
Interface
Apache OpenOffice offers a contemporary interface without frills and gimmicks. Since IBM handed over the source code of its office suite Lotus Symphony to the Apache Software Foundation two years after discontinuing the product in 2012, the free office program has benefited from Symphony's innovative operating concept. As one of the first major office programs, OpenOffice was equipped with a collapsible sidebar on the right side that took advantage of modern widescreen displays much more effectively than older office applications [9]. The context-sensitive sidebar (Figure 2) provides formatting, templates, and graphics and removes the need to access the traditional menu bar. If desired, you can integrate frequently used items into the symbol bar, which is arranged horizontally at the top of the program window, and you can remove rarely or never needed features. All the other candidates offer this feature, as well.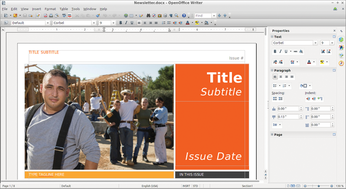 comments powered by

Disqus
---
Support Our Work
Linux Magazine content is made possible with support from readers like you. Please consider contributing when you've found an article to be beneficial.
---