Plasma 5 with long-term support
Plasma Zone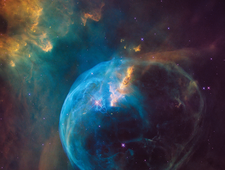 KDE is steering the Plasma 5.8 desktop into calmer waters through long-term support, while the developers continue to extend and perfect.
When Matthias Ettrich created the Kool Desktop Environment more than two decades ago [1], no one knew where the journey was heading. Ettrich had noticed that the already five-year-old Linux was becoming increasingly sophisticated, but it lacked a uniform and stylish desktop environment that made daily work easier for end users.
For more than 20 years and five generations of software, KDE has remained true to its task of supporting end users, whereas Gnome, which is three years younger, increasingly targets developers and other professional users. Ettrich's ongoing commitment led to some personal recognition: He was awarded the Medal of Merit of the Order of Merit of the Federal Republic of Germany in 2009 for founding the KDE project.
Tripartite
KDE comprises three parts: KDE Desktop; KDE Frameworks, which was previously monolithic KDE libraries; and KDE Applications. The desktop component has gone by the name Plasma since the fifth incarnation. Although the three components interact, they do not need to be released together. This independence makes work easier for developers.
Plasma is currently at version 5.8 and, as the first LTS version in the fifth cycle, now offers long-term support with security updates and bugfixes for at least 18 months [2]. The same is true for KDE Frameworks 5.26. The extended support will make it easier for enterprise Linux distros to offer continuous support for the lifetime of the release.
Plasma 5.8 LTS was released in early October; most of the remaining errors from version were 5.7 eliminated, and some changes were introduced.
Task Manager
The previous Plasma 5.7 introduced a task manager back end [3]. The previous code was already 16 years old and designed for X11, which made it difficult to use with the new Wayland display manager. In Plasma 5.8, some applets that use the new back end have been completely revised; in particular, the pager and the window list have seen extensive changes. They now obtain their data directly from the task manager, which saves memory and conserves resources.
Even the task manager itself gets some new features with Plasma 5.8. You can now drag files onto a linked application in the task manager and open them along with the program. The context menu of applications in the task manager now also supports media control. With a right-click on the application in the bar, you can control the volume of music and movies or skip to the next track in a playlist.
Jump Lists
One major simplification with Plasma 5.8 involves how global keyboard shortcuts are handled [4]. Actions can now be called using a single modifier key like Ctrl, Alt, or Shift without having to press another key. The Windows button, also referred to as the Meta key on Linux, now defaults to opening the K menu as a dash in full-screen mode. This innovation is currently not reflected in the Shortcuts part of the system settings; you need to configure it manually in ~/.config/kwinrc. Jump lists introduced in Plasma 5.6 make it possible to open applications with a direct jump to specific functions (Figure 1). They now also allow jumps within a single application at the push of a modifier button, which means you can open, say, the Compose window of an email client or a web browser in private browsing mode [5].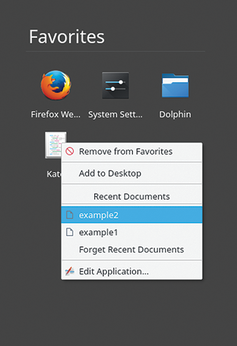 comments powered by

Disqus
Visit Our Shop
Direct Download
Read full article as PDF: